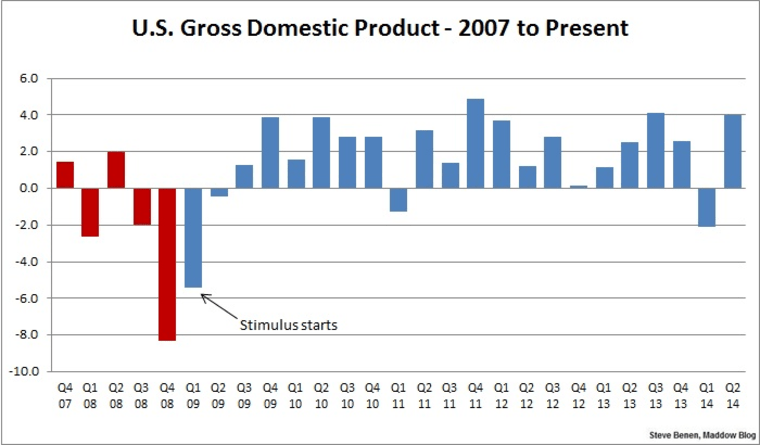 Still, the first-quarter report made the second-quarter data all the more important. Would the economy bounce back? This morning, we received
an answer
-- and for those rooting for economic success, the results were even better than expected.
The U.S. economy grew by a 4% annual pace in the second quarter, bouncing back from a revised 2.1% decline in the first three months of the year, according to a preliminary government estimate. Economists polled by MarketWatch predicted GDP would grow by a seasonally adjusted 3.2%. Consumer spending, the main source of economic activity, accelerated to show a solid 2.5% gain after a meager 1.2% rise in the first quarter. [...] Also adding to U.S. growth was a pickup in construction spending, increased business investment, a bigger buildup in inventories and slightly higher government spending, the Commerce Department said Wednesday.
Also note, the most recent data showed the first quarter GDP at -2.9%. Today's report revises that total in a less-awful direction, to -2.1%.
Nevertheless, today's report showing 4% growth is terrific and reinforces the perception of an economy picking up speed. Though this is a preliminary figure that will be revised in the coming months, if it holds up, this will be only the third time in the last seven years that GDP growth has reached 4% or greater.
What's more, the swing from -2.1% to +4% is easily the largest positive quarter-to-quarter swing since the start of the Great Recession is late 2007.
As for the image above, the chart shows GDP numbers by quarter since the Great Recession began. The red columns show the economy under the Bush administration; the blue columns show the economy under the Obama administration.