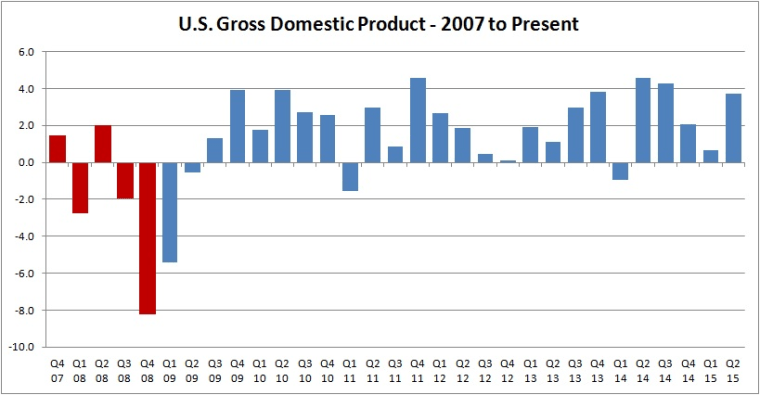 The U.S. economy grew at a faster 3.7% annual pace in the second quarter, up from the initial estimate of growth at a 2.3% clip, the Commerce Department said Thursday. Economists polled by MarketWatch predicted gross domestic product would be revised up to 3.3%, but business investment was stronger than expected.
Note, this is a preliminary estimate that will be revised again next month.
While nearly all Americans want to see stronger economic growth, this morning's evidence of economic progress may bring unwelcome consequences from the Federal Reserve -- the Fed has long been expected to raise interest rates in the fall, though developments in China have led many to hope Janet Yellen and Co. will delay a rate hike. Today's report, however, may very well reinforce the Fed's original plans.
As for the politics, I'll be eager to hear the same Republicans who argued on Monday that Obama is crushing the economy turn around and argue today that the economic is gaining steam thanks to the GOP-led Congress and anticipation of a Republican White House in 2017. That's how this silly game is played, right? Heads I win, tails you lose?
As for the image above, the chart shows GDP numbers by quarter since the Great Recession began. The red columns show the economy under the Bush administration; the blue columns show the economy under the Obama administration. (If it looks a little different than usual, I had to start the chart from scratch due to a hard-drive crash a couple of days ago. Never mind; it's a long story.)