A company called Virginia Uranium has been itching to mine what it believes is 119 million pounds of the radioactive element in southern Virginia. The company has been courting Virginia state legislators to lift the moratorium on uranium mining, and executives say they believe they'll get someone to introduce a bill next year.
To speed that along, Virginia Uranium commissioned a study by the National Academy of Sciences and the National Academy of Engineering about whether uranium mining was safe. The study cost $1.42 million, which Virginia Uranium paid. Yesterday the results came back in the form of a report 302 pages long (pdf).
Virginia Uranium immediately announced that the study was good news for their plans. From the Washington Post:
Virginia Uranium executives say the study provides a path for the state to repeal a three-decade moratorium next year — making it one of the most controversial and unpredictable issues expected in the 60-day session that starts next month."The study shows that major technological and regulatory advances over the past 30 years have dramatically improved the environmental and public health performance of the uranium mining and milling industry," said Patrick Wales, a geologist and the company's project manager.
The more sober assessment from the local press is that there is risk involved in what Virginia Uranium wants to do, and also opportunity. Governor Bob McDonnell said yesterday that his staff would review the report and get back to him in the new year. "It would be premature to make any additional comments until that thorough internal analysis of the report has taken place," he said in a statement.
For all I know, mining uranium in Virginia could turn out to be the best thing ever, with jobs and profits and free ponies for the kids. Maybe even the cows will love it. But something about the threat of a thousand years of radioactive contamination makes you want to feel really, really certain about things ahead of time. What Virginia Uranium needs is the trust of the public. That's harder to get when the mining company pays for the study to be done, and then leaps out to call it a clear path forward on the day it's released.
Below, a screengrab from the November edition of "The Coles Hill Progress" (pdf) from Virginia Uranium.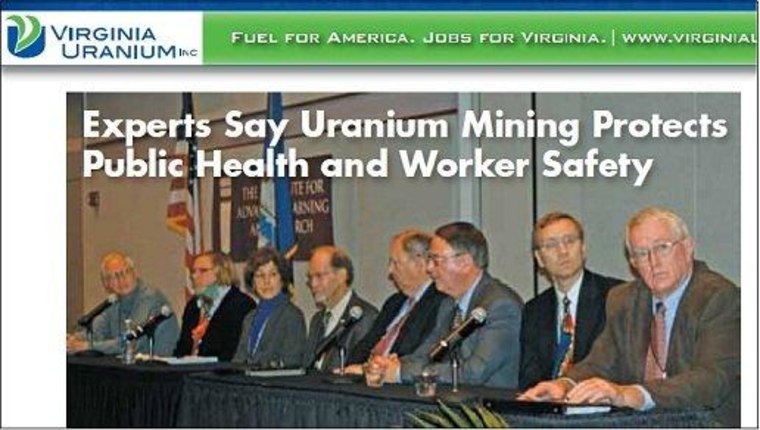 P.S. I don't know that you can make too much of this, but one Virginia Republican says he has heard from an engineer who felt "pressured" -- as the Richmond Times-Dispatch describes it -- "into going along with the unanimous report." The legislator wouldn't release the email, and the engineer involved told the paper that he didn't want to discuss the situation in detail. Again, the question is trust.