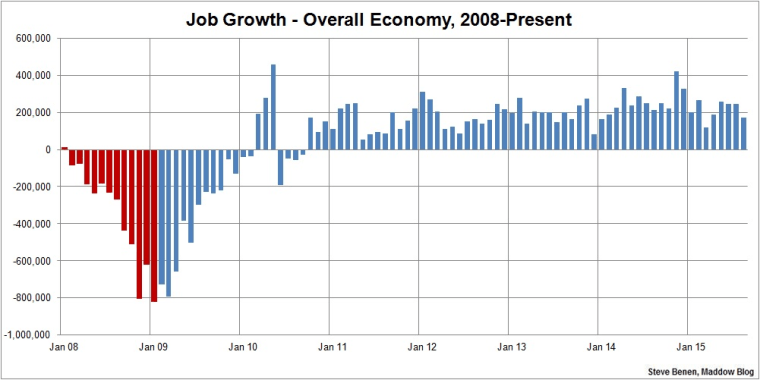 This is one of those job reports that looks a little discouraging at first blush, but the details paints a more encouraging picture. The revisions, for example, also point in a fairly encouraging direction: June's job totals were revised up, from 231,000 to 245,000, while July's numbers were also revised up, from 215,000 to 245,000. Combined, that's an additional 44,000 previously unreported jobs. The same report also showed a decent increase in wages.
Even the drop in the jobless rate is for the right reasons. As the New York Times' Neil Irwin
noted
, the latest drop is the result of fewer unemployed Americans, more employed Americans, a slightly higher employment-to population rate.
Overall, the U.S. has added 2.92 million jobs over the last 12 months, which is excellent. August was the 59th consecutive month of positive job growth -- the best stretch since 1939 -- and the 66th consecutive month in which we've seen private-sector job growth, which is the longest on record.
Above you'll find the chart I run every month, showing monthly job losses since the start of the Great Recession. The image makes a distinction -- red columns point to monthly job totals under the Bush administration, while blue columns point to job totals under the Obama administration.
Update: Here's another chart, this one showing monthly job losses/gains in just the private sector since the start of the Great Recession.