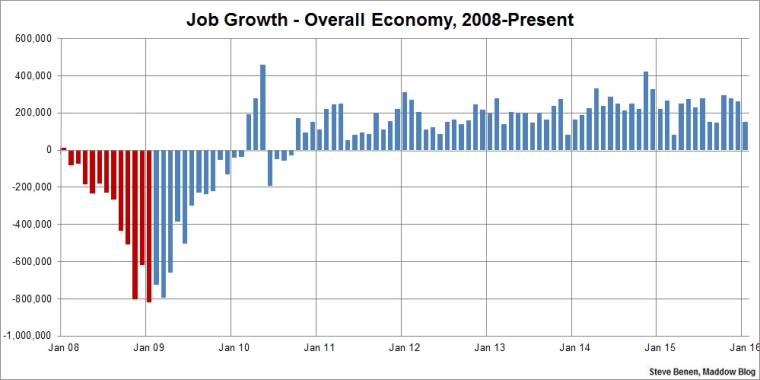 And as those projections were a little overly optimistic. The Bureau of Labor Statistics
reported
this morning that the U.S. economy added just 151,000 jobs in January. And while that's a disappointing figure -- which will be revised in the coming months -- the overall unemployment rate inched lower to 4.9%, reaching a low last seen in February 2008, exactly eight years ago.
While the overall total on job creation fell short, it's also worth noting that this report pointed to an increase in average hourly earnings, which was quite encouraging.
In terms of the revisions, today's report is the once-a-year report that revises every month from the previous calendar year. On this front, the news is also good: we previously believed the U.S. economy created 2.65 million jobs in 2015, but the new, final tally is 2.74 million.
January was the 64th consecutive month of positive job growth -- the best stretch since 1939 -- and the 71st consecutive month in which we've seen private-sector job growth, which is the longest on record.
Above you'll find the chart I run every month, showing monthly job losses since the start of the Great Recession. The image makes a distinction – red columns point to monthly job totals under the Bush administration, while blue columns point to job totals under the Obama administration.
Update: Here's another chart, this one showing the overall unemployment rate in the Obama era.