In a Reuters interview yesterday, Donald Trump took pride in his presidency. "We've done a good job," he said. "I think we're much more respected throughout the world."
The president may want to believe this, but the evidence to the contrary is overwhelming. Consider, for example, Gallup's new report, published overnight.
One year into Donald Trump's presidency, the image of U.S. leadership is weaker worldwide than it was under his two predecessors. Median approval of U.S. leadership across 134 countries and areas stands at a new low of 30%, according to a new Gallup report.The most recent approval rating, based on Gallup World Poll surveys conducted between March and November last year, is down 18 percentage points from the 48% approval rating in the last year of President Barack Obama's administration, and is four points lower than the previous low of 34% in the last year of President George W. Bush's administration.
Or put in chart form: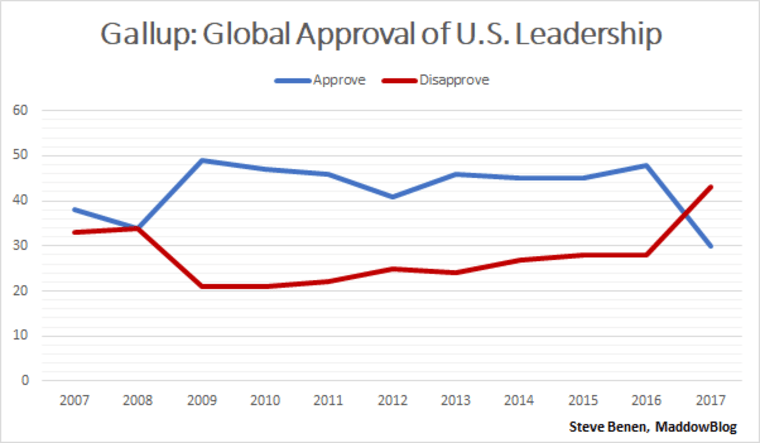 The report added, "The relatively fragile image of U.S. leadership in 2017 reflects large and widespread losses in approval and relatively few gains. Out of 134 countries, U.S. leadership approval ratings declined substantially -- by 10 percentage points or more -- in 65 countries that include many longtime U.S. allies and partners."
Making matters slightly worse, Gallup found, "With its stable approval rating of 41%, Germany has replaced the U.S. as the top-rated global power in the world. The U.S. is now on nearly even footing with China (31%) and barely more popular than Russia (27%) -- two countries that Trump sees as rivals seeking to 'challenge American influence, values and wealth.'"
The report comes on the heels of a separate study, published last year by the Pew Research Center, which also found that Trump's presidency isn't just unpopular around the globe, it's also undermined international support for the United States.
What's more, we can circle back to our coverage from last month and note that we don't just have to rely on polling data.  The L.A. Times had a good piece on the landscape.
China has now assumed the mantle of fighting climate change, a global crusade that the United States once led. Russia has taken over Syrian peace talks, also once the purview of the American administration, whose officials Moscow recently deigned to invite to negotiations only as observers.France and Germany are often now the countries that fellow members of NATO look to, after President Trump wavered on how supportive his administration would be toward the North Atlantic alliance.And in the Israeli-Palestinian conflict, the U.S., once the only mediator all sides would accept, has found itself isolated after Trump's decision to declare that the U.S. recognized Jerusalem as the capital of Israel.
Across the board, on practically every issue, American influence under Trump has waned, at times as part of a deliberate White House strategy. The Times' article cited international critics of the administration saying the Republican president has taken positions on a range of challenges that have "disqualified the United States from the debate or rendered it irrelevant."
Nicholas Burns, a former senior American diplomat under Republican and Democratic administrations, added, "Trump is weak on NATO, Russia, trade, climate, diplomacy. The U.S. is declining as a global leader."
During Barack Obama's presidency, Republicans chose a line of attack that, in retrospect, was hilariously misguided. As regular readers know, Obama's GOP detractors seemed absolutely convinced that the Democratic president had done real damage to the United States' international standing. The opposite was true, but GOP officials nevertheless argued, with unnerving vigor, that America had forfeited the admiration of the world – and it was Obama's fault.
During the Republican presidential primaries, for example, Jeb Bush insisted that during the Obama era, "We have lost the trust and confidence of our friends." Around the same time, Scott Walker and Donald Trump had a chat about "how poorly" the United States was "perceived throughout the world." Mitt Romney added, "It is hard to name even a single country that has more respect and admiration for America today than when President Obama took office."'
If we swap out "Obama" for "Trump," the assessments suddenly have merit.