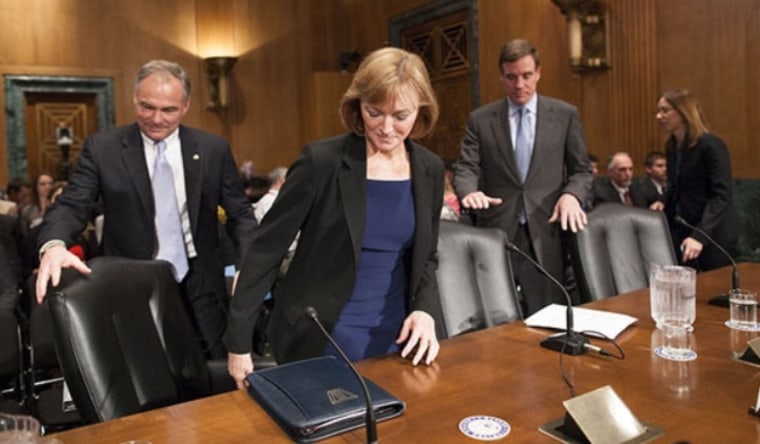 In one especially jarring example, Rep. Joe Barton (R-Texas), in high dudgeon last week,
said
during systemic Medicare Part D breakdowns, "This is a huge undertaking and there are going to be glitches."
And with the House Ways & Means Committee holding its own hearing today, American Bridge, a progressive super PAC, pulled together some quotes from Republican committee members during the Medicare Part D problems to highlight
the same problem
:
Rep. Kevin Brady (R-Texas): "I think it needs to be understood that in a major reform, an improvement of a program like this, there are bound to be glitches." Rep. Tom Price (R-Ga.): "Kinks" in Part D got "worked out." Rep. Sam Johnson (R-Texas) to CMS official: "You guys have done a super job." Fmr. Rep. Nancy Johnson (R-Conn.): "This is a major change in the Medicare program and it is not surprising that there have been implementation pitfalls along the way."
Also at the time, Mark McClellan, the CMS administrator under Bush/Cheney, told lawmakers, "Establishing a standard of absolute perfection for this transition, when dealing with over 6 million dual eligible individuals, is clearly untenable.... A change this big in this short a period of time is bound to have some problems."
Republicans, at the time, found all of this quite reasonable.
Here's a two-prong test for GOP lawmakers raising a fuss now: (1) Were you in Congress during the Medicare Part D rollout? (2) Did you complain bitterly, question the administration's competence, condemn the law, refuse to help fix the system, and call for officials' resignations?
If the answers are "yes" followed by "not really," then it's going to be difficult for fair-minded people to take this round of apoplexy seriously.