Thousands of Turkish protesters are heading to the streets for a ninth day of demonstrations, and to counter their government's heavy-handed tactics, they've found some pretty clever ways to get their message out.
On Thursday, we talked about game show host Ali Ihsan Varol overcoming media censorship by transforming the show's signature word puzzles into political statements.  
What's a democracy breather?  Gazmaskesi!  
A social network site described as a curse?  Twitter!
Varol was taken off the air after Monday's show, but following public outcry, resumed regularly scheduled live broadcasts on Friday.
In addition to media censorship, protestors have had to contend with aggressive policing, including tear gas and water cannons.  
This is TOMA, a riot control vehicle.
TOMA has followed these protesters around for several days now, which prompted the protester on the right to make a sign saying: I have been with TOMA for 8 days.  We're getting serious.  (Note the little hearts at the bottom of the sign.)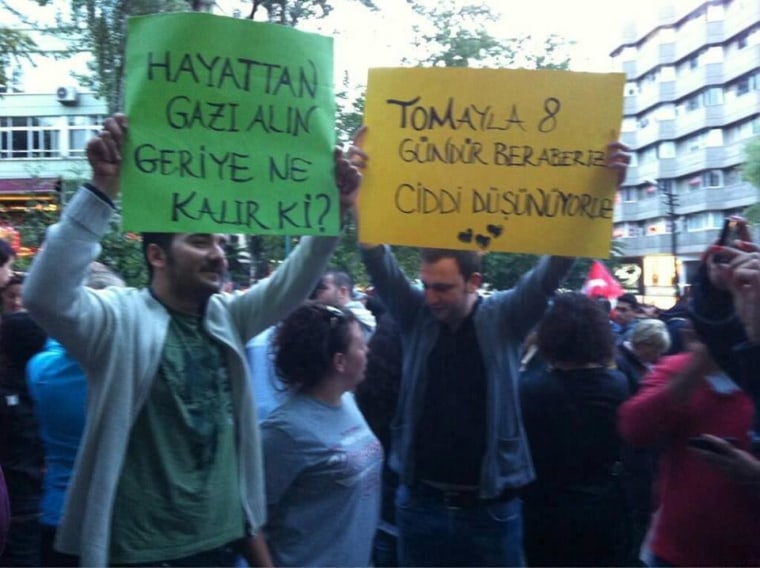 The guy next to him is holding a green sign saying: Without (tear) gas, what remains?  Life just isn't the same. (H/T Selen Koksal for the translations.)
Turkish protestors have even found a way to turn President Erdogan's nickname for them into a new anthem. Capulcu (pronounced CHA-pul-joo), means "looters", so naturally, they came up with this: