Did you happen to see the Wonkblog item about the weirdest parts of the fiscal deal? Number 6 is about tax breaks for electric vehicles, which is something I'd heard Rep. Darrell Issa complaining about in his explanation for why he opposed the deal. In fact, what he called it was "the electric motor scooter low-speed loophole."
I'm sure Mr. Issa meant for that to sound alarming, but I was pleased to be informed of this news. There's a dealership near me that sells both A2B bikes and Zero motorcycles, both of which are a little more expensive than their coolness compels me to splurge for, so I went digging to find out just how much this huge tax giveaway is worth.
The law, which, by the way, is called The American Taxpayer Relief Act of 2012 (pdf), says you get a tax break of 10% (only up to $2500) of the cost of a qualified 2- or 3-wheeled electric vehicle. Unfortunately, the qualifications specified include the capability of 45 m.p.h. or faster (this is the "low-speed loophole"?), so that rules out the A2B for this particular break. Even the top-of-the-line Zero motorcycle is in the $14,000 range, so you'd get the full 10% under the $2500 cap there.
Y'know, what bike won't keep you under the cap? The zecOO.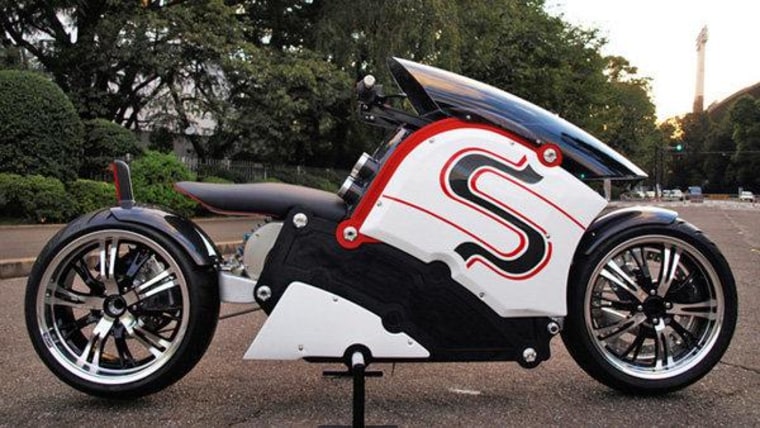 If you'll forgive a brief digression, remember that sound-in-a-bottle post? One of the other award winning entries in that contest was a really cool looking hubless e-bike (pictured at top). The online translators are pretty useless in this case and it seems like the point of the design is that the frame can adjust to suit the ergonomics of the rider. Still, the image looks like a photo, not a computer rendering, which means someone built it, so I burned a little time searching on the designer's name and other clues to see if I could find any info about its production.
No luck there, but I did run into Znug Design's zecOO electric motorcycle, darling of the 2012 Tokyo Motorcycle Show. Top speed of 75 mph for a range of 55 to 85 miles, 540 pounds, 4-6 hours to charge the battery, for the expected price of $70,000 once small scale production starts (if it hasn't already). There's video of it in use here. It only looks loud.
One bit of comfort I can offer to folks who are upset with fat cat electronic vehicle customers and their budget-busting scooter loophole is that the tax burden is likely to be made up over time at the state level anyway. The Oregon legislature, for example, is making headlines for its consideration of a per-mile road usage tax on vehicles that get better than 55 mpg.
That sounds like some kind of oil industry sponsored disincentive to go electric, but it's really about recovering lost revenue from the shrinking gas tax yield to pay for road maintenance. If you're not paying a gas tax and you're still using the road, the argument goes, you should still contribute to their upkeep. And since the highways of the future are only a few months away, it's not just upkeep but upgrades that will need paying for.