Sen. Ted Cruz (R-Texas) really wants to deport Dream Act kids. I mean, he desperately wants to deport them. The far-right senator knows these young people have been living, working, and studying in the United States for most of their lives. And he knows America is the only home they've ever known.
But the Texas Republican has nevertheless made kicking these young people out of the country his "
top priority
." Cruz is approaching this with a zealotry that's rather unnerving, and he's
urging
other GOP lawmakers to do the same.
This is no excuse, however, for bad charts.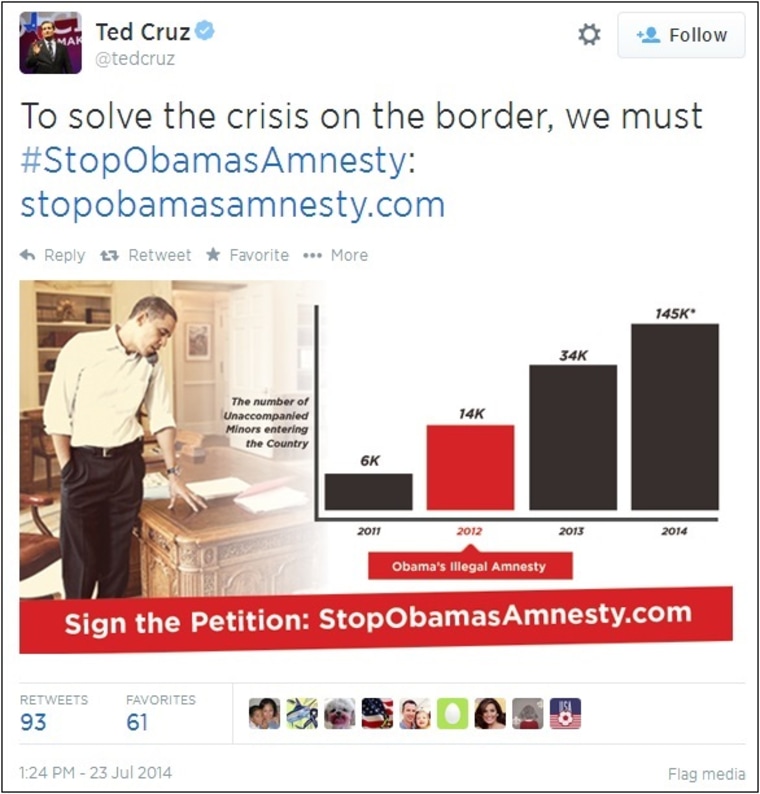 How bad is Cruz's case? Let's take a minute to unwrap it.
First, there's a correlation/causation problem -- for Cruz, the humanitarian crisis followed the DACA policy, which means the DACA policy caused the humanitarian crisis. In reality, DACA doesn't appear to have much to do with the unaccompanied children from Honduras and El Salvador, who are fleeing violence and poverty, and taking advantage of a 2008 policy approved by Bush/Cheney.
Second, Cruz believes deporting Dream Act kids would "solve the crisis at the border." There's literally nothing to suggest that this is true and neither the senator nor his allies have bolstered their case with substantive evidence.
Third, Cruz's message today characterizes DACA as "illegal." As the senator probably realizes, that's just foolish. President Obama's policy falls well within his legal authority, and when House Republicans had an opportunity to shape a lawsuit challenging perceived White House excesses, they didn't even include this one. The right doesn't have to like the policy, but that doesn't make it illegal.
Fourth, there's Cruz's creative use of y axes. Even if we accept the senator's data at face value, since when is 14,000 half of 145,000? According to this chart, if we add 14,000 and 34,000, the sum is greater than 145,000.
If I bought Ted Cruz a calculator, would he promise to use it?
And finally, don't accept the senator's data at face value. According to Customs and Border Protection officials, they're apprehending
about 150
unaccompanied children per day, down from about 355 per day. Unless Cruz intends to add days to the calendar, we're not on track for 145,000 this year.
Other than this, though, the chart's fine.