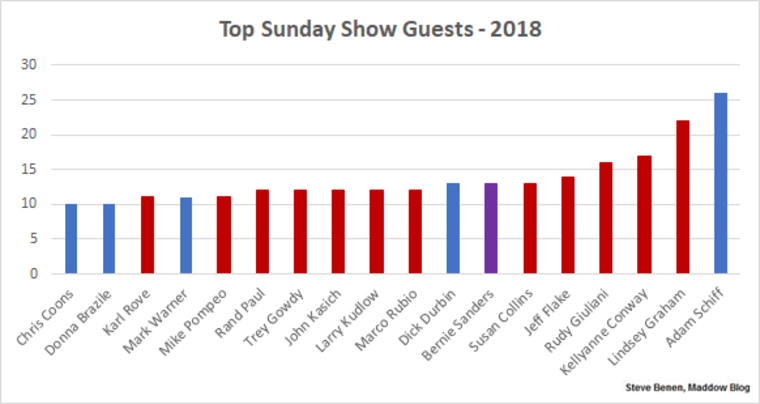 In 2013, 2014, 2015, a Republican won the Great Sunday Show Race with relative ease. In 2016 and 2017, an independent came out on top. But in 2018, Republican guests may have dominated once again, but it was a Democrat who was the big winner.
For the sixth straight year, I tallied up the guests for "Meet the Press," "Face the Nation," "This Week," "State of the Union," and "Fox News Sunday," and in 2017, Rep. Adam Schiff (D-Calif.) was the most frequent guest with 26 appearances.
That said, broadly speaking, Republican voices easily outnumbered their Democratic counterparts last year, just as they did in the previous years. The above chart shows every political figure who made 10 or more Sunday show appearances in 2017 -- based on Nexis transcripts and the shows' archives -- with red columns representing Republicans, blue columns representing Democrats, and purple columns representing independents*.
I should note that for the purpose of this study, I excluded hosts, out-of-office network contributors, and journalists, and focused exclusively on current officials, former officials, candidates for public office, domestic or foreign policymakers, or anyone who could be fairly characterized as actively involved in the political arena. (Karl Rove's inclusion here is admittedly debatable, but given his role in the Crossroads operation, it seemed only fair to characterize him as someone who's "in the arena.")
As longtime readers may recall, there's a school of thought that says tallies like these are unimportant. Obviously, I disagree. For me, the five major Sunday shows represent a political institution of sorts, highlighting the kinds of voices and ideas the Beltway media considers important. The discussions held on these programs help reflect -- and in many cases, shape -- the conventional wisdom for the political establishment in D.C.
And as is usually the case, Democrats have largely found themselves on the outside looking in: of the 18 people who made 10 or more Sunday show appearances in 2017, 12 were Republicans.
On a related note, I'd like to remind readers that MSNBC offers fine programming on weekends, including Sunday mornings, featuring a diverse group of stories and guests.
* In 2016, I lumped in Sanders with Democrats while he was seeking the Democratic nomination, but given his official Senate status as an independent, and his decision to run for re-election as an independent, it seems more accurate to identify the Vermonter with his chosen partisan affiliation.