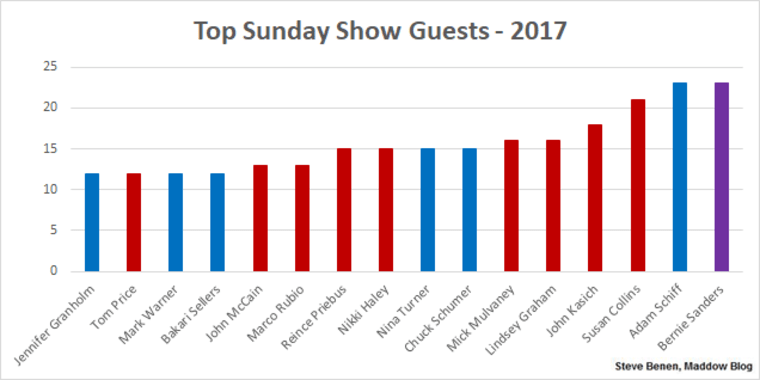 In 2013, 2014, and 2015, a Republican won the Great Sunday Show Race with relative ease. In 2016, an independent took the crown. This year, there was a tie.
As I do every year, I tallied up the guests for "Meet the Press," "Face the Nation," "This Week," "State of the Union," and "Fox News Sunday," and in 2017, Sen. Bernie Sanders (I-Vt.) and Rep. Adam Schiff (D-Calif.) came out on top with 23 appearances each.
Republican voices outnumbered their Democratic counterparts last year, just as they did in the previous years, but 2017 offered far more partisan balance than I've seen. The above chart shows every political figure who made 12 or more Sunday show appearances this year -- based on Nexis transcripts and the shows' archives -- with red columns representing Republicans, blue columns representing Democrats, and purple columns representing independents.
I should note that for the purpose of this examination, I excluded hosts and journalists, looking exclusively at current elected officials, former officials, candidates for public office, policymakers, or anyone who could be fairly characterized as actively involved in the political arena.
That said, I excluded Rick Santorum because he has a semi-official slot on CNN's "State of the Union," on which he appears most weeks.
As longtime readers may recall, there's a school of thought that says tallies like these are unimportant. Obviously, I disagree. For me, the five major Sunday shows represent a political institution of sorts, highlighting the kinds of voices and ideas the Beltway media considers important. The discussions held on these programs help reflect -- and in many cases, shape -- the conventional wisdom for the political establishment in D.C.
On a related note, I'd like to remind readers that MSNBC offers fine programming on weekends, including Sunday mornings, featuring a diverse group of stories and guests.