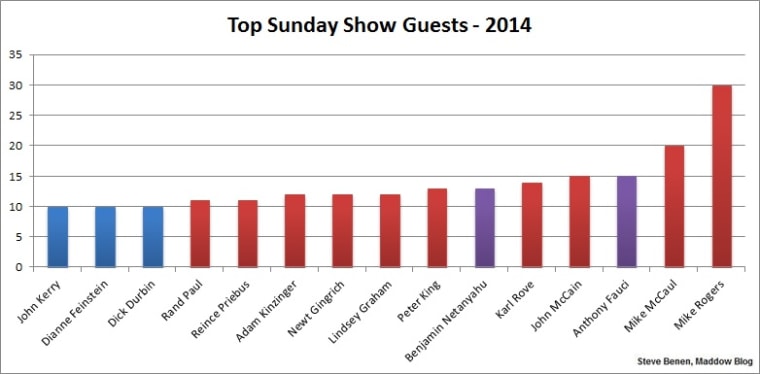 Just like last year
, I tallied up the guests for "Meet the Press," "Face the Nation," "This Week," "State of the Union," and "Fox News Sunday," and once again, Republican voices easily outnumbered their Democratic counterparts. In fact, this year was even more one-sided in the GOP's favor.
The above chart shows every political figure who made 10 or more Sunday show appearances this year -- based on Nexis transcripts and the shows' archives -- with red columns representing Republicans, blue columns representing Democrats, and purple columns representing those who aren't part of either party. Rogers easily outpaced the field last year with 27 appearances, and this year, he did even better, making 30 appearances. To put that in perspective, that works out to an average of roughly one appearance every 1.7 weeks (or 2.5 Sunday show appearances a month, every month for a year).
House Homeland Security Committee Chairman Mike McCaul (R-Texas) was the only other person to reach 20 appearances this year, though he still ended up trailing Rogers by a large margin. Sen. John McCain (R-Ariz.), a Sunday-show staple for a generation, was third with 15, tied with Dr. Anthony Fauci, the non-partisan head of the National Institute of Allergy and Infectious Diseases, who made a flurry of media appearances to discuss the Ebola threat in the fall.
But further down the rankings, some interesting numbers pop up.
For example, Israeli Prime Minister Benjamin Netanyahu was one of the more popular guests this year, to the point that he made more appearances than any Democratic official in Congress or in the Obama administration. In fact, 15 people made 10 or more appearances on Sunday shows this year, and only three Democrats made the cut -- and they're all at the bottom of the list.
Of the 15 most frequent guests, 14 are men. All 15 are white.
I should note that for the purposes of this study, I excluded hosts and journalists, looking exclusively at current officials, former officials, candidates for public office, domestic or foreign policymakers, or anyone fairly characterized as actively involved in the political arena. (Karl Rove's inclusion here is admittedly debatable, but given his role in the Crossroads operation, it seemed only fair to characterize him as someone who's "in the arena." He has a media role, to be sure, but Rove also hopes to directly influence the outcome of the elections on which he comments.)
There is a school of thought, articulated by the estimable Jonathan Bernstein among others, that says tallies like these are unimportant -- whether Sunday shows prefer Republicans to Democrats is inconsequential, the argument goes, and hardly worth considering in any detail.
Obviously, I disagree. For me, the five major Sunday shows represent a political institution of sorts, highlighting the kinds of voices and ideas the Beltway media considers important. The discussions held on these programs help reflect -- and in many cases, shape -- the conventional wisdom for the political establishment in D.C.
And a little too often, these discussions suggest to the public that it's Republicans whose views drive the conversations that matter.
Like last year, I'll leave it to others to speculate as to why the Sunday shows seem so preoccupied with Republican guests, but I will note that
msnbc offers fine programming on weekends
, including Sunday mornings, featuring a diverse group of stories and guests unseen elsewhere.