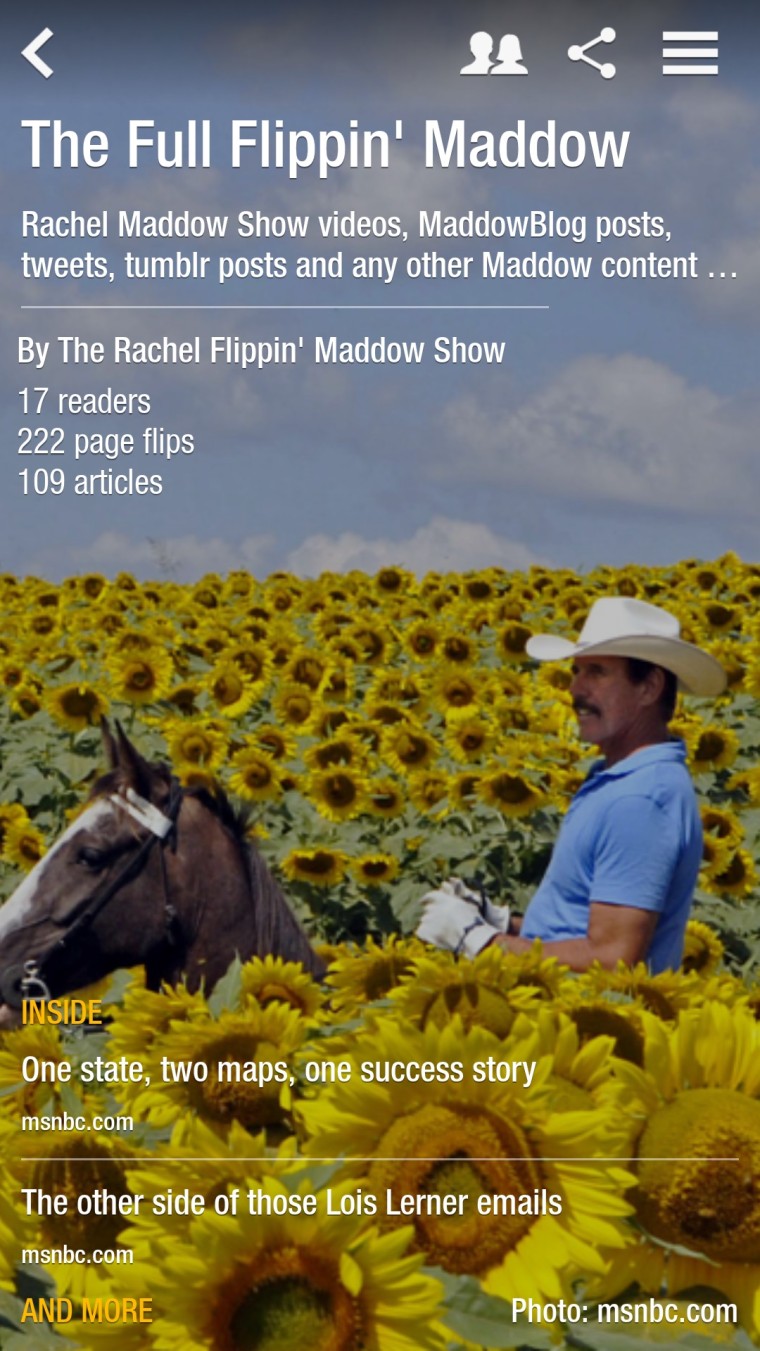 More details and a couple of other options after the jump…
What is it?
Flipboard turns web pages into a sort of digital magazine. Instead of scrolling, you swipe your touchscreen and it looks like a turning page. (If you're trying this on a desktop, you'll note that scrolling your mouse wheel also flips the pages.) Maybe I'm just old, but I find something comforting in turning pages.
How do you do it?
Install the free Flipboard app. Search for The Full Flippin' Maddow. Click the little flag-like icon to follow it.
Didn't there used to be another Flipboard account for Maddow?
We had a Maddow Flipboard account from years ago, but both Flipboard and the Maddow site have changed since then, so we're starting a whole new account.
It used to be that you could plug an RSS feed into Flipboard and that could be an automated channel. Now the tool is more social and users are meant to curate their magazines. So The Full Flippin' Maddow is manually updated with every MaddowBlog post, every show clip, relevant tweets from the show accounts, and timely items tweeted by @MaddowApp, as well as things that pop up from our friends at @MaddowFans or from friends of the show like @RichardEngel.
What else?
Before settling on the curated magazine, I did try to recreate the automated system we had before, and those options still exist if you're interested.
@Maddow_All is a Twitter account driven entirely by the MaddowBlog RSS feed. So all of the MaddowBlog posts as well as everything in the video clip playlist all go through the feed and through a service that turns it into tweets. The service, TwitterFeed, checks every half hour for up to five new posts. So if there are six new items on the blog in a half hour, one might get skipped by the feed. But at least it's reliably scheduled. Twitter accounts in Flipboard don't work quite the same as their magazine concept, but you can still search for them and add them to the list of things you follow.
Is there a way to get a channel that has all of the Maddow everything?
@Maddow_All is part of a Twitter list called Maddow Everything that draws from all of the Maddow show related accounts, including @MaddowApp. As you may know, @MaddowApp is what live tweets related links during the show, so the Maddow Everything list can get pretty noisy. But, if you're the kind of person who would rather sift through things yourself, this too can be followed on Flipboard.
To do so, search for @MaddowAux in Flipboard (capitalization counts!) and in addition to seeing the Twitter account in the results, you'll also see the Twitter list, "Maddow Everything."
So which one of these things are you saying I should follow?
As a slightly less noisy, slightly more human, slightly less regular option, we recommend you follow The Full Flippin' Maddow.