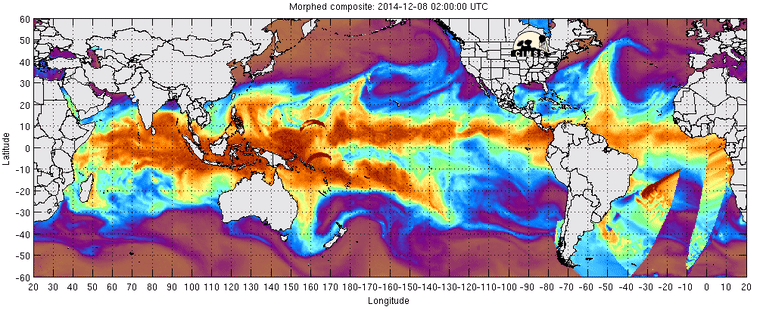 You've likely heard by now that California is about to take a serious and much-needed soaking. A plume of moist air is slithering over the Pacific to hose down the Bay Area and more. Actually, it's not so much a "plume" as a river - an "atmospheric river" in that weird official/unofficial meteorological parlance that seems to pair every weather event with a set of cool terms. As terms go, even better than "atmospheric river" is "Pineapple Express," which is the name for this particular river, as it runs from the Hawaiian Islands to the Pacific Coast.
With the weather upon us, increasingly images of the Pineapple Express are popping up in Twitter accounts. All of them point back to the Cooperative Institute for Meteorological Satellite Studies at the University of Wisconsin-Madison, which bills itself as "The Mecca of Satellite Meteorology." I don't doubt it. There's a lot to dig through over there, not the least of which is the map above, animated with the past 72 hours of data, and putting this week's rain into an amazing world-wide context. 
If you know anything about the Pineapple Express or atmospheric rivers, you know more than I. I welcome your input in the comments.