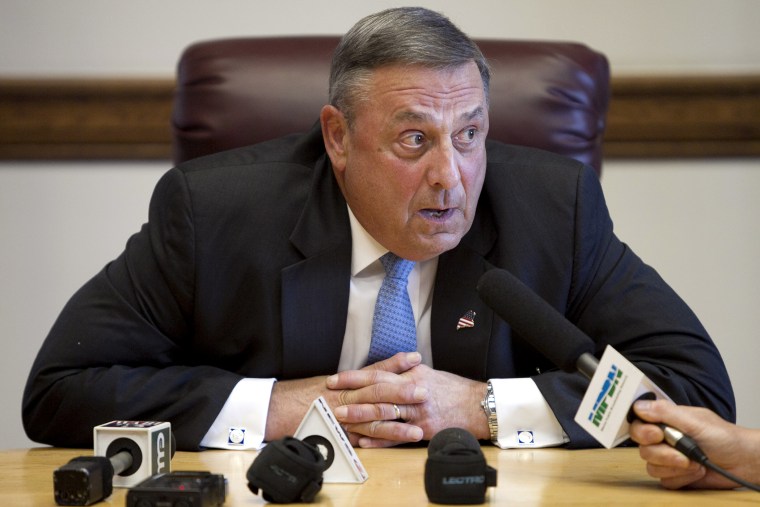 Naloxone, also known by the brand name Narcan, works by binding to the opioid receptors in the brain, stopping the effects of opiates such as heroin and reversing deadly overdoses. It comes in a nasal spray, as easy to administer as a decongestant. And it's safe, too -- naloxone has no effect whatsoever on someone who is not suffering from an overdose. In Maine, only licensed paramedics can administer naloxone. A bill now being considered in the Legislature would make the drug available to emergency medical technicians and family members or friends of those at risk of overdosing. Police officers and firefighters may be added to that list as well.
If the medication can save lives, is inexpensive, has a proven track record, is harmless to others, and isn't even expensive, it's tough to imagine why this would be the subject of much debate.
But LaPage has already vetoed a related bill once, arguing it might encourage drug users to "push themselves to the edge, and beyond." The governor is making the same claims again, and a LePage administration official told state lawmakers last week that naloxone has some side effects: an overdose victim could become violent or ill after taking the drug.
It's better, then, to let the person die?
A similar fight unfolded last year in New Jersey, where Gov. Chris Christie (R) shared LePage's views, until a rock star
changed his mind
.
Taking the advice of his friend Jon Bon Jovi and moved by a barrage of letters from grieving families, Gov. Chris Christie signed a bill today that gives people immunity from arrest if they call 911 to report an overdose, even if they also had used drugs at the time. [...] In addition to giving immunity from arrest and prosecution for drug possession to those who call 911 to report overdoses, the bill makes naloxone, a remedy for overdoses, available to spouses, parents or guardians who could be taught to administer the drug in an emergency.
The governor said at the bill signing, "We want you to save a life first. The deal we'll make is we won't prosecute or arrest (you). I would rather you didn't do it in the first place, but I live in the real world."
Someone might want to let Paul LePage know.