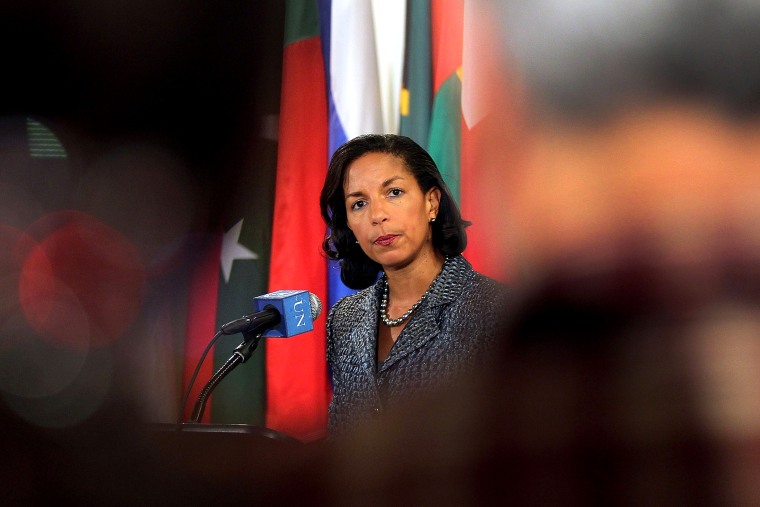 "No, because what I said to you that morning, and what I did every day since, was to share the best information that we had at the time. The information I provided, which I explained to you, was what we had at the moment. It could change. I commented that this was based on what we knew on that morning, was provided to me and my colleagues, and indeed, to Congress, by the intelligence community. And that's been well validated in many different ways since. "And that information turned out, in some respects, not to be 100% correct. But the notion that somehow I or anybody else in the administration misled the American people is patently false. And I think that that's been amply demonstrated."
Rice's defense has the benefit of being true. For reasons that have never been fully explained, she was the target of an aggressive smear campaign, which may have derailed her chances of becoming Secretary of State as President Obama began his second term.
But as more detailed information has come to public light, it's Rice
who's been vindicated
and her critics who've been proven wrong. This came into even sharper focus last month, with the release of the report from the Senate Intelligence Committee, which bolstered reality: Rice
did nothing wrong
.
Sen. John McCain (R-Ariz.), who tried to destroy Rice's reputation for no apparent reason, is apparently still a little behind, as we learned soon after "Meet the Press" aired.
On CBS's "Face the Nation," host Bob Schieffer showed the Arizona senator the clip of Rice's comments yesterday and asked if McCain had "any reaction." He replied:
"I'm almost speechless because it's patently obvious, first of all, that Susan Rice had no reason to be on the program. She had no involvement in it. Second of all, she read talking points that we are now beginning to believe came from the White House, which were absolutely false. We now know that director -- that the CIA station chief on the ground sent a message immediately saying not -- slash -- 'not spontaneous demonstration.' And of course, the information was totally misleading, totally false. And for Susan Rice to say such a thing, I think -- it's a little embarrassing, to tell you the truth.
The words McCain should be using -- "I apologize to Susan Rice for my false attacks on her character" -- never came up. Maybe he forgot.
There's just no rational explanation for McCain's ongoing criticism. First, complaining about Rice appearing on a Sunday show at all after the Benghazi attack is wholly unrelated to the veracity of Rice's remarks. Second, McCain's imaginary belief that Benghazi talking points "came from the White House" is contradicted by literally every shred of evidence that's available.
What's actually "a little embarrassing, to tell you the truth," is the fact that the Republican senator can't bring himself to acknowledge he was wrong to go after Susan Rice, and
can't explain
coherently why he believes there was a Benghazi "cover-up" that only he can see.