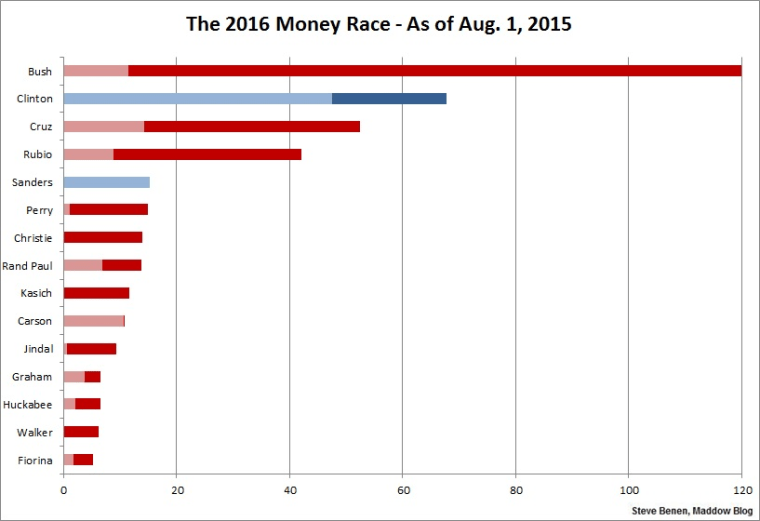 And at this point, one thing is abundantly clear: my oh my are most of the candidates dependent on super PACs and other outside, ostensibly "independent" entities. The
New York Times
reported
over the weekend:
The Republican presidential candidates are almost uniformly relying on these groups, which can tap unlimited corporate and individual contributions, to amass the financial firepower they need to break through a crowded field. This is a stark departure from past campaigns, and has made most of the candidates deeply reliant on a handful of ultra-wealthy donors.
So far this year, for every dollar raised by a presidential candidate, more than four dollars has gone to a super PAC.
To help drive the point home, I've updated last month's chart to show how the most competitive candidates are doing, omitting candidates who've raised less than $5 million.
Note, the lighter colors -- red for Republicans, blue for Democrats -- show how much money the candidates have raised through their actual campaigns, while the darker colors show how much has been raised by the candidates' allied entities.
A few caveats are in order. For example, the totals raised by the campaigns themselves are skewed a bit by the amount of time some candidates have been in the race. A candidate who launched in March (Ted Cruz, for example) has had considerably more time to raise money than candidates who launched in July (Scott Walker, for example). It makes apples-to-apples comparisons tricky.
Also note, Marco Rubio transferred a few million dollars from his Senate campaign account, which is added to his overall totals, while Bernie Sanders, has no support from outside groups, which he's avoided for ideological reasons.
Those details matter, of course, but the angle that matters most is the astounding degree to which candidates are now dependent on millionaires and billionaires. The
Washington Post
's
report
noted, "Never before has so much money been donated by such a small number of people so early."
More than 50 individuals and entities have shelled out at least $1 million apiece to big-money groups backing presidential candidates.... In all, 58 million-dollar donors together were responsible for $120 million donated to GOP and Democratic super PACs by June 30 -- more than 40 percent of the total amount raised by those groups. [...] Topping the list of mega-donors on the right is New York hedge-fund manager Robert Mercer, who donated $11 million to a super PAC aligned with Sen. Ted Cruz (R-Tex.). Houston private equity investor Toby Neugebauer gave $10 million to another Cruz super PAC. Kelcy Warren, a Dallas energy executive and the national finance chairman for Perry's campaign, gave $6 million to two pro-Perry super PACs. Half a dozen donors have made $5 million contributions to Republican hopefuls, including Florida car magnate Norman Braman, who is backing Sen. Marco Rubio of Florida; Dallas tech entrepreneur Darwin Deason, who is supporting Perry; and Wisconsin roofing billionaire Diane Hendricks, who is supporting Wisconsin Gov. Scott Walker.
The role of these mega-donors is worth appreciating, if for no other reason than to add context to the raw data. One might look at the $14 million raised by Chris Christie's super PAC, for example, and see that as a fairly impressive haul. What's less obvious is that nearly all of that money came from a handful of very wealthy backers -- which in turn points to a deep-but-narrow base of support.
The same is true of Ted Cruz's super PAC, which has had considerable success in filling coffers, but which has also raised most of its money from a donor list whose members can be literally counted on one hand.
If you're concerned about the exaggerated political influence enjoyed by a tiny number of hyper-wealthy donors over would-be presidents, the latest FEC filings are reason alone to be fearful about the state of our democracy.
It's true, of course, that money does not always translate into votes, and there are plenty of candidates who've come up short after impressive fundraising hauls (and vice versa). It's also true that some of these candidates may enjoy vast resources, which they and their teams will invest poorly in the coming months.
That said, as we
talked about
a few weeks ago, there's no denying the practical implications of the data for candidates who are struggling. Campaigns with limited resources aren't able to buy TV time; they tend to have smaller campaign operations in early nominating states; and they often have trouble convincing major donors to write big checks when others aren't doing the same.
There's time for the campaign-finance picture to change, but not a lot of time.