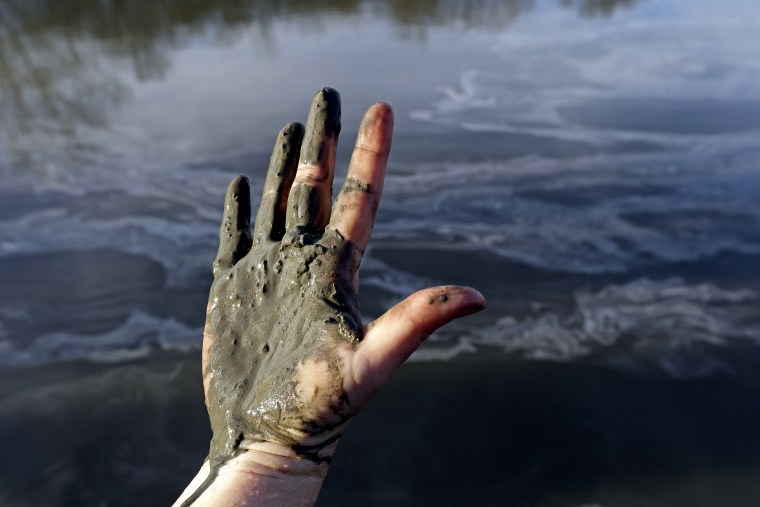 North Carolina's top environmental regulator defended his oversight of Duke Energy Wednesday as a criminal probe of the Dan River ash spill sought answers from his staff. Subpoenas released Wednesday order 18 state water-quality officials to appear next month before a federal grand jury in Raleigh. They're to report not only communications going back to 2009 but any payments and gifts from Duke. The N.C. Department of Environment and Natural Resources itself got a subpoena Tuesday for ash-related records for all 14 of Duke's active and retired coal-fired plants in the state. Duke said it too received a subpoena Wednesday but would not describe it.
At issue here are, in effect, interconnected stories. The first is the environmental problem: in Eden, N.C., a coal-ash dump has twice this month accidentally spilled toxic sludge into the nearby Dan River. The coal ash and the pipes that leaked belong to Duke Energy, Gov. Pat McCrory's (R) former employer.
Which leads to the legal/political part of the story. Last week, federal prosecutors, as part of a criminal investigation, sent a subpoena to the McCrory administration -- specifically, the Department of Environment and Natural Resources -- about Duke Energy's coal-ash spill. And then this week, a federal grand jury issued
a second round of subpoenas
, seeking information on the McCrory administration's oversight of every Duke Energy coal-ash site, not just the one that leaked into the Dan River.
Of particular interest was
a settlement
between the McCrory administration and Duke Energy involving previous instances in which the company polluted ground water at two other sites.
The state proposed that Duke pay $99,111 to settle the environmental violations at Asheville and Riverbend. Environmentalists criticize the proposed fines as couch-cushion change for a company valued at nearly $50 billion. "This is a common technique of regulators who are friendly with the law-breaking regulated entities," [Frank Holleman, a senior attorney at the Southern Environmental Law Center] said. "They will come in and file at the very last minute and then quickly propose a favorable settlement to the lawbreaker to prevent the citizens group from leading the litigation."
The settlement didn't require Duke to actually clean up the pollution, but in an interesting twist, the McCrory administration, which had struck the deal, asked a court to reject it after the Associated Press reported on its existence.
And now federal investigators are eager to learn more about it.
So, there's a federal criminal probe into the coal-ash spill, and the McCrory administration's oversight of all Duke Energy coal-ash sites, and a proposed settlement between the McCrory administration and Duke, and 18 members of the McCrory administration were individually subpoenaed this week, seeking information on whether they received any "payments" or "items of value" from Duke Energy and/or its partners.
As Rachel put it, investigators "appear to be looking to see if anyone got paid off by Duke Energy when they were working for Pat McCrory's administration to supposedly regulate Duke Energy."
And when McCrory administration officials hosted a press conference yesterday to respond to questions,
they left the room
while reporters continued to ask for more information. One unnamed journalist could be heard asking, "Why are you running away from the press?"
When considering various scandals, controversies, indictments, and criminal investigations surrounding Republican gubernatorial administrations, there are already quite a few stories percolating, but this one in North Carolina is well worth watching.
Related video: