Republican House Speaker John Boehner was reelected for a third term on Tuesday, less than two hours after legislators of the 114th Congress were sworn in as members. Opposition toward Boehner grew up until the afternoon session. But his 216 votes outweighed the 164 gained by his opponent, House Minority Leader Nancy Pelosi. Twenty-four Republicans said "nay" to Boehner.... A second round of voting would have been required if five more GOP members had moved against Boehner.
There were also a handful of members who weren't running who picked up support, including Rep. Jim Jordan (R-Ohio) who finished with two votes, and in a strange twist, two U.S. senators -- Kentucky's Rand Paul and Alabama's Jeff Sessions -- each picked up a vote. (Anyone, in theory, can be elected House Speaker, whether or not they're members of the House.)
Taking a step back, there are two broader ways to look at this. The first is that Boehner was expected to prevail and he did -- his opponents were, once again, poorly organized and in desperate need of a credible standard bearer. The focus should now shift to what, if anything, will happen to the Republican mutineers who went after the Speaker but failed.
The second angle, however, requires some focus on just how significant the defections against Boehner were. Indeed, consider a chart: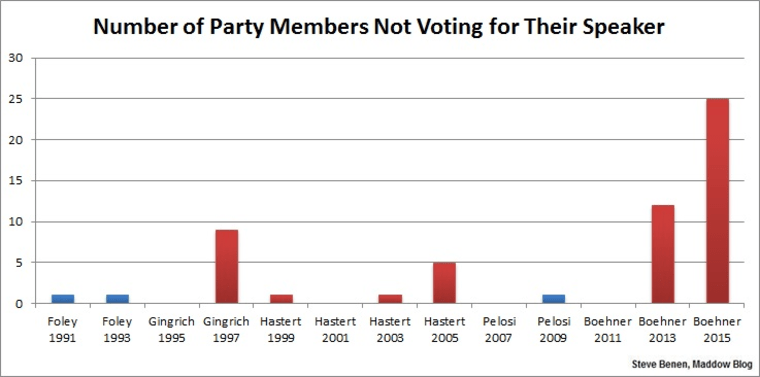 Realistically, months from now, few will remember the specific details of this afternoon's floor vote; Congress will simply move on to its legislative agenda. But the failed mutiny nevertheless leaves House Republicans bruised: Boehner comes out of this looking even weaker; the ordeal adds another level of division to the GOP conference; and this is the exact opposite of the smooth start Republican officials wanted to start the new Congress.