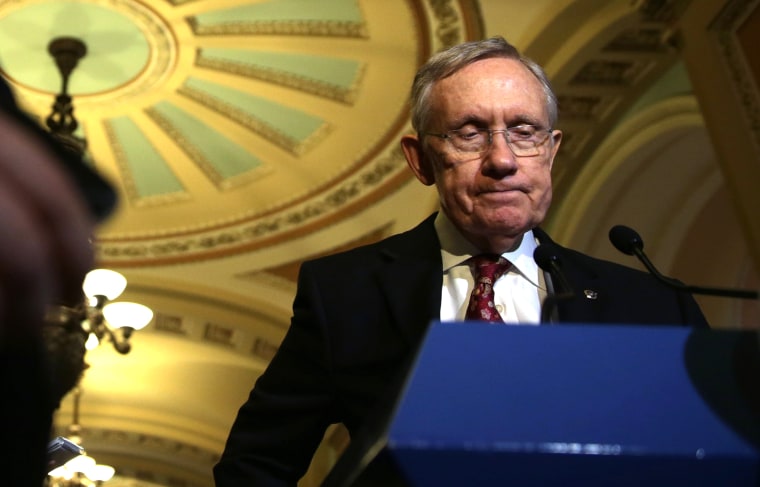 A day later, it appears Reid's prediction was spot-on.
Senate Democratic leaders plan to try again to extend unemployment insurance after Republicans blocked their latest attempt Thursday. [...] The vote would have advanced a three-month $6.4 billion extension to expired unemployment benefits. Republicans charge that this is the latest in an election year effort to score political points.
The assertion that this is some kind of partisan gambit is quite odd. Democrats are proposing an extension of jobless aid to help boost the economy and help keep 1.7 million unemployment Americans' heads above water. Dems put together a bipartisan bill, which, unlike previous years' efforts, doesn't add to the deficit.
If this were about scoring points, the bill wouldn't have been put together this way.
As for this afternoon's effort, today's bill came one vote shy of overcoming a Republican filibuster: proponents had 59 votes, but needed 60. (It technically ended up with 58 votes because Reid had to switch from "yes" to "no" for procedural reasons.) A similar bill garnered 56 votes a few weeks ago, so proponents can at least take some solace in the fact that they're getting closer to their goal.
Four Republicans -- Kelly Ayotte (R-N.H.), Susan Collins (R-Maine), Dean Heller (R-Nev.), and Lisa Murkowski (R-Alaska) -- voted with the majority this afternoon.
Note, this vote wasn't to approve the benefits for the unemployed; it was simply to determine whether or not to allow the Senate to vote on benefits for the unemployed. The Republican minority refused.
So, what's next?
The Democratic leadership said it intends to keep trying.
At a press conference before the vote Reid said the outcome of the vote did not look good and that Democrats would continue to push for an extension. "We are not going to give up on the unemployed," Reid said.
For his part, Senate Minority Leader Mitch McConnell (R-Ky.) continues to argue that he will continue to block jobless aid until Democrats agree to his procedural demands, including a series of unrelated amendments GOP senators want to try to add to the bill.