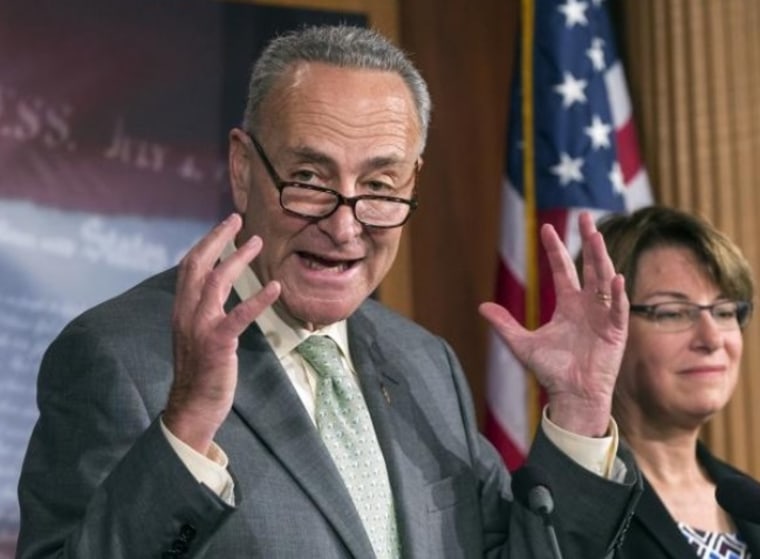 For example, after recent national election cycles, there were systemic voting problems apparent to everyone. But time passes, the urgency fades, and there's a temptation to move on past the unpleasantness, especially in an era in which partisan differences make policymaking so difficult.
With this in mind, I can imagine some of you recoiling at the very mention of the phrase "debt ceiling," and I certainly don't blame you. We just resolved the latest crisis last week; we won't have to deal with it again until the new year; and it'd be easier to catch our breaths and not think too much about the issue.
But the threat hasn't gone away. While it's still fresh on everyone's mind, it makes sense to invest some effort into
preventing future crises
.
Sen. Chuck Schumer (D-N.Y.) will propose legislation that would make permanent a scheme to take the decision to raise the country's debt limit out of Congress's hands. By making the so-called "McConnell rule" permanent, the president would have ultimate authority to raise the debt limit and prevent the United States from defaulting.
As we
discussed
last week, there's a lot to like about the "McConnell rule." The idea originated in 2011 with Senate Minority Leader Mitch McConnell (R-Ky.), who suggested the debt ceiling should remain in place, but the legislative burden should shift -- the White House would have the authority to extend Treasury's borrowing, and instead of going to Congress for permission, Congress would only have the power to proactively block Treasury. In other words, instead of needing a "yes" from Congress, lawmakers would only have the ability to say "no."
That's a policy Schumer would like to make permanent, in part to relieve economic uncertainty and offer some reassurance to the private sector about the nation's willingness to pay our debts, and in part to ensure fewer hostage crises in Washington going forward.
Will Republican lawmakers consider Schumer's proposal? Almost certainly not, but therein lies the point: why oppose debt-ceiling reforms? Given the risk of catastrophe and ongoing economic uncertainty, why leave the status quo in place?
These are not rhetorical questions. If the answer is, "We need to be able to threaten the nation's wellbeing to get what we want because we no longer see value in American governing norms," then Republicans are effectively giving away the game.