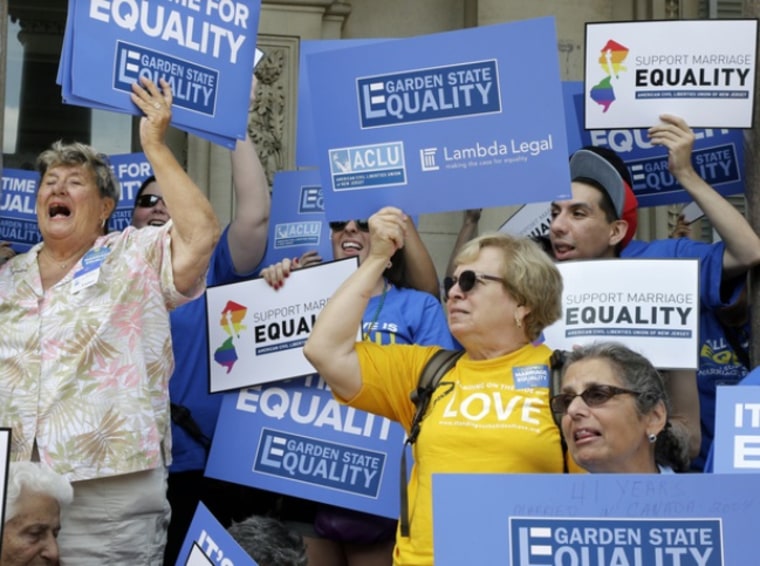 Same-sex marriages can begin Monday in New Jersey on a provisional basis, the state Supreme Court ruled today. The court will not make a final ruling on same-sex marriage rights until next year. But in the meantime, it upheld an order by a trial judge allowing civil marriages for gay couples to start Monday.
In a unanimous ruling from the state Supreme Court, Chief Justice Stuart Rabner said, "The public interest does not favor a stay. State officials shall therefore permit same-sex couples, who are otherwise eligible, to enter into civil marriage beginning on October 21, 2013."
That's Monday morning.
The series of events began just three weeks ago, when Superior Court Judge Mary Jacobson ordered the state to begin officiating same-sex marriages on Oct. 21. The ruling was largely based on the Supreme Court precedent set in the Defense of Marriage Act case.
Gov. Chris Christie (R) quickly appealed the decision, it was widely assumed that the order would be put on hold, leaving the current law in place, while the case is litigated further. That didn't happen -- Judge Jacobson said there "is no 'public interest' in depriving a class of New Jersey residents their constitutional rights while appellate review is pursued."
So Christie took his case to the state Supreme Court, where he hoped to leave unequal treatment in place until the final ruling on the case, and this afternoon, he lost this, too.
It's worth emphasizing that the state Supreme Court has not yet evaluated the case on the merits, and will have an opportunity to rule against marriage equality later. But (a) that outcome seems unlikely given today's unanimous court order; and (b) it would create quite a mess for couples who are about to start getting married next week.
As best as I can tell, Christie has no further legal recourses -- the governor may not want same-sex couples getting married on Monday morning, but as of right now, there's nothing he can legally do to stop them.