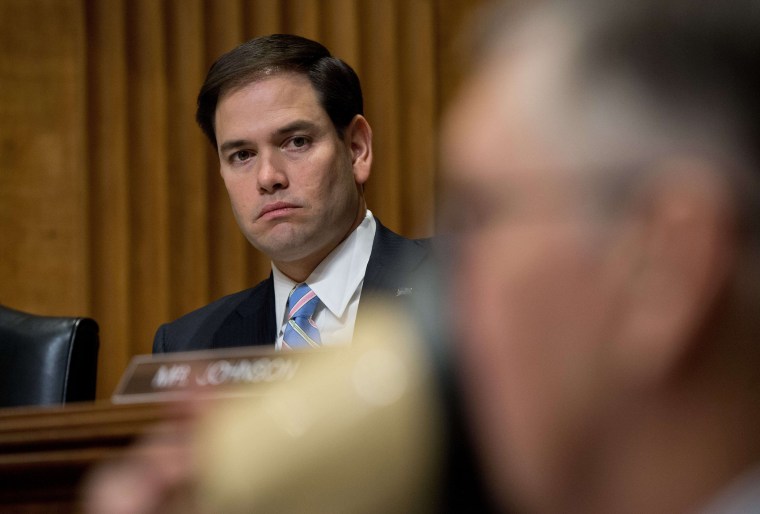 What's most remarkable about their comments on risk corridors is that Republican leaders are denouncing a model they created to smooth out rate increases in prescription drug coverage under Medicare. When Senate Minority Leader Mitch McConnell voted in 2003 to create Medicare Part D, he called the law "the most important social legislation ... in my memory" and said it provided "a genuine opportunity for the private sector to actually compete in offering this new drug benefit." House Republican Leader John Boehner made similar comments, noting in 2007, "By almost every measure, this drug benefit has exceeded expectations, and it continues to score high marks among seniors for providing big savings on their prescription costs." An innovative part of the law McConnell and Boehner voted for was its "risk corridors" program, a new idea back in 2003. The corridors are a mechanism to distribute or balance risks across insurance companies, so that those that sign up healthier enrollees help those that attract sicker enrollees. Under the program, if insurers' actual costs for medical claims are more than 3 percent below their expected costs, they will transmit a portion of their profits into the federal Treasury. Those funds will then be redistributed to insurers whose actual costs exceed their expected costs by more than 3 percent. The provisions were included in Medicare Part D to give the insurers confidence to enter a new market. And they worked.
This leads to a fairly obvious question: if the policy is effective, and the policy was a Republican idea, why are Republicans all of a sudden pretending to be outraged by the measure four years after it became law?
By all appearance, what we're witnessing is the latest example of post-policy nihilism. Policymakers who know better are shouting, "Bailout!" not because it's true, but because it's a potent word some voters (and donors) might find believable.