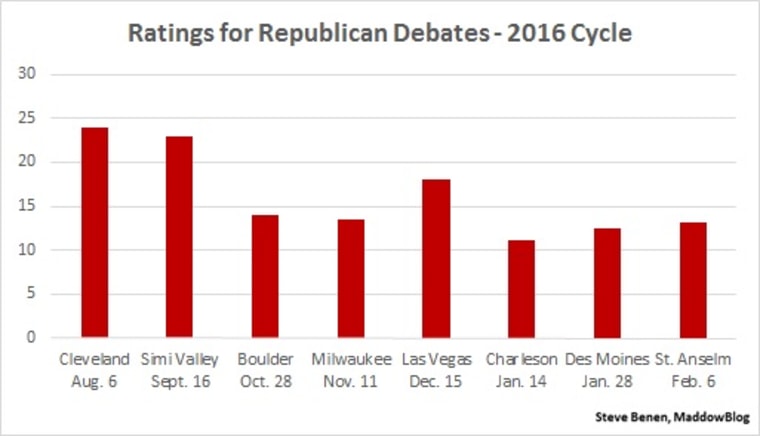 ABC's Republican primary debate on Saturday night attracted 13.2 million viewers. The network also reported 1.3 million livestream views. It was the network's best performance on a Saturday night with non-sports programming in over 14 years.
Going into the event, there was some chatter that the combination of "debate fatigue" and a three-hour gathering the day before the Super Bowl might depress ratings a bit. Evidently, that wasn't the case.
How did the audience for this debate stack up against the others? The above chart helps provide some context.
Some caveats apply, of course. Some viewers watched online, for example, and that part of the audience isn't reflected when measuring television ratings. What's more, some of the debates have been held on Fox Business, which doesn't reach as many as households as, say, ABC.
Still, looking back at the last presidential cycle, Republican candidates gathered for 20 debates in 2011 and 2012, and
not one
of them reached a television audience of 8 million. Only two of the debates topped 7 million.
Just as a quantitative matter, there's no denying the stronger interest in this cycle, and Donald Trump's presence almost certainly has something to do with it. Whether the public actually likes what they're hearing when the GOP candidates get together remains a separate question altogether.