It started with an Associated Press headline that wasn't true: "Emails: IRS Official Sought Audit of GOP Senator." From there, conservative and mainstream media outlets
went berserk
on Wednesday, reporting that former IRS official Lois Lerner tried to audit Sen. Chuck Grassley (R-Iowa) as part of some kind of partisan vendetta.
"Lerner Asked IRS to Audit Republican Senator," one headline read. "Lerner Set IRS Sights on Sen. Grassley," said another. A third abandoned subtlety altogether: "Lois Lerner's Threats To Investigate Grassley Should Terrify You."
All of this, it turns out, wasn't true. The reality is
unambiguous
: "[Grassley] wasn't 'targeted' at all. Instead, Lerner asked a colleague if it made sense to examine whether an outside group had made Grassley an inappropriate offer. Her colleague dismissed the idea, and that was the end of it."
At least in theory, reporters, Republican officials, and conservative activists who ran with this story on Wednesday had a decision to make: they could either correct their mistake or pretend they hadn't made the mistake.
Of course, this is the IRS "scandal," which naturally led conservatives to choose Door #3: keep repeating the inaccuracy as if it were true.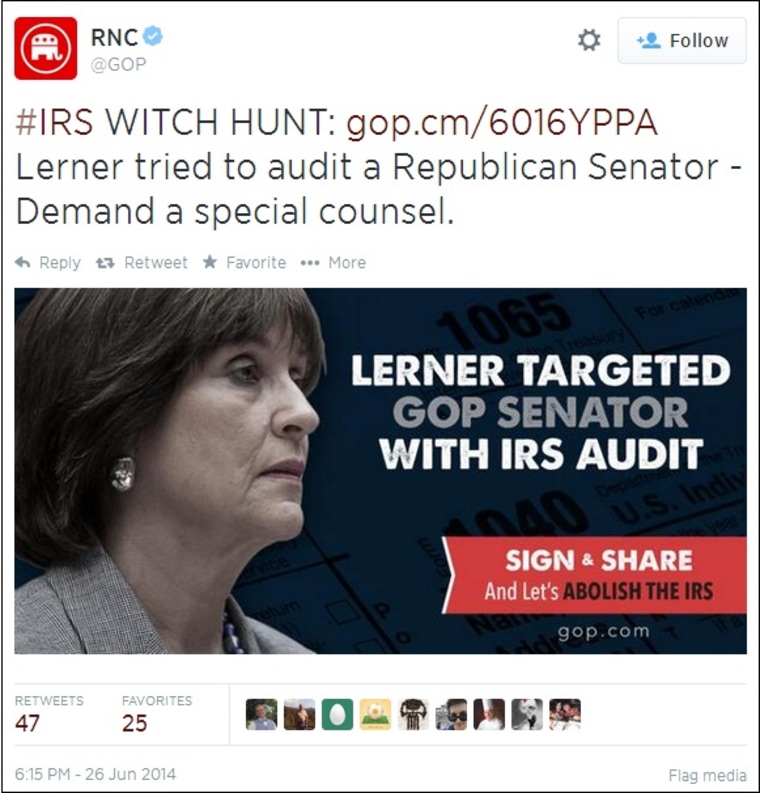 The Republican National Committee, for example, last night
published a tweet
about the "IRS witch hunt" in which Lerner "tried to audit a Republican senator." It included a handy image for conservative activists to share via social media that read in all caps, "Lerner targeted GOP senator with IRS audit."
Remember, these claims are plainly at odds with the facts. The RNC's message made specific claims that aren't supported by reality. But the tweet nevertheless demanded a "special counsel" to investigate the story after it had already been discredited.
Brian Beutler
added
this morning, "'Lois Lerner tried to audit Grassley' is the new 'Al Gore said he invented the Internet.' Let's just all agree to pretend it happened."
I don't doubt that many will play along, embracing this myth along with "Obamacare is socialized medicine" and "the deficit is getting larger."
Here's what happened. Lerner, while she was still Director of Exempt Organizations at the IRS, mistakenly received an invitation intended for Grassley from a non-profit group that wanted the senator to speak at some event. The invitation apparently included an offer to pay for Grassley's wife to make the trip as well. Lerner flagged the invitation for one the IRS's lawyers, saying that she thought the group was "inappropriately offering to pay for his wife" and asked if the invitation should be "refer[red] to exam." The lawyer wrote back and said it probably wasn't worth investigating. Lerner agreed and the matter was dropped. That's it. She didn't "seek an audit" of Grassley. She didn't "target a sitting senator for a proposed internal audit." And she certainly didn't make any "threats to investigate Grassley." She asked a lawyer a question, was told no, and moved on.
Note, this isn't just a liberal interpretation of reality. Dave Weigel published
the email chain
that anyone can read. Simon's description isn't even in dispute.
So why in the world did the political world go nuts? I suspect it's because some are slow learners.
For over a year, Republican lawmakers, desperate for a genuine administration scandal, have manufactured IRS-related "scoops," hoping some lazy folks in media will fall for it. This keeps working -- partial transcripts from Darrell Issa, anyone? -- which in turns helps perpetuate the problem.
In this case, Republicans on the House Ways & Means Committee told the world on Wednesday that this was a real scandal. "Lerner was using the IRS as a tool for political purposes in defiance of taxpayer rights," Committee Chairman Dave Camp (R-Mich.) said.
And almost immediately, a myth was born. The allegations were too good to check.
It's demonstrably wrong, but apparently that no longer matters. "Everyone knows" that Lerner used the IRS to go after Grassley, even if she didn't, and the truth apparently no longer matters.
The Republican fundraising letters, based on the assumption that donors won't know better, should be fascinating.