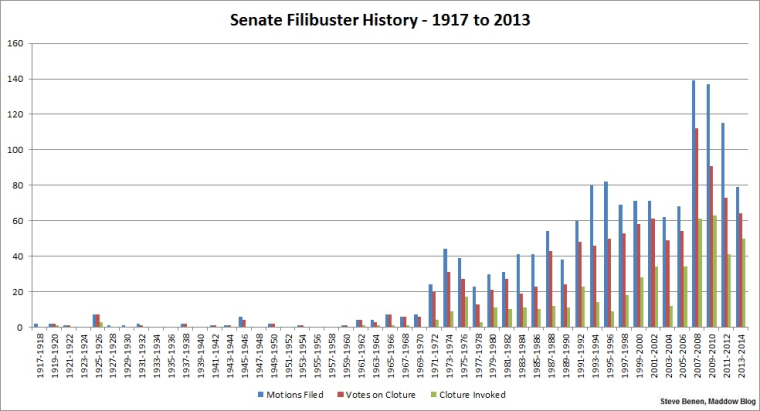 The truly atrocious 113th Congress is half over, and as we recently
documented
, it's well on its way to becoming the least productive of any Congress since clerks started keeping track several generations ago.
But as
Roll Call
reports
, this Congress isn't just on track to produce a record low of one thing (bills passed), it's also poised to produce a record high of something else.
The Senate of the 113th Congress is on track to feature the most filibuster-breaking votes in history, and there's no reason to think it won't reach that milestone. The 64 roll call votes on debate-limiting motions -- also known as cloture -- in the first session are more than half of the 112 in the record-setting 110th Congress, according to Senate statistics. While the traditional expectation is that the second session has less time for business because senators leave early to campaign, the recent changes to the Senate's nomination rules make additional cloture votes more likely.
The Senate maintains
an updated table
, chronicling cloture votes over the last nine decades, using three metrics: (1) cloture motions filed (when the majority begins to end a filibuster); (2) votes on cloture (when the majority tries to end a filibuster); and (3) the number of times cloture was invoked (when the majority succeeds in ending a filibuster). By all three measures, obstructionism soared over the last six years as Republicans abused the rules like no other party or caucus in American history.
But this current Congress has produced some striking numbers in this area: 79 cloture motions filed, 64 votes on cloture, and 50 times in which cloture was invoked. Those one-year totals are already remarkable -- cloture was invoked more this year than the combined total of 1917 to 1978 -- but this Congress still has another year to go.
As analyses come together over the next few months questioning whether this is the worst Congress ever, keep these totals in mind. It'll be part of a damning indictment.