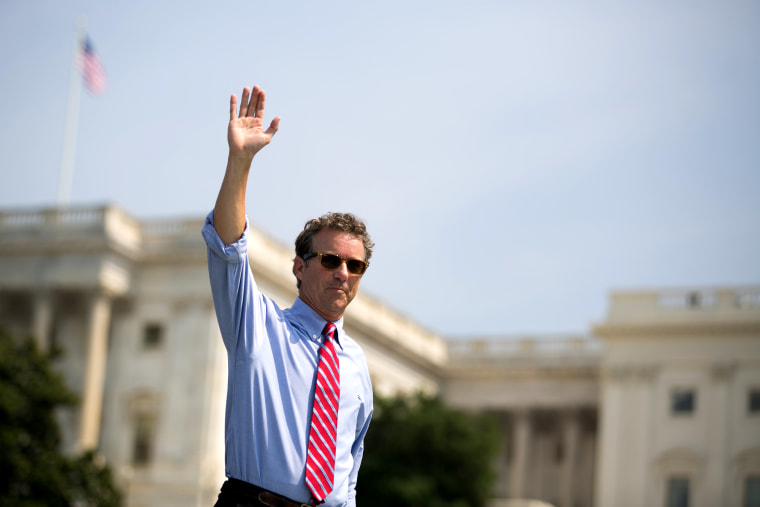 On the Republican side, it's a slightly different story. Ken Cuccinelli recently welcomed Sen. Ted Cruz (R-Texas) to Virginia, but didn't want any photographs of the two of them together. Today, Sen. Rand Paul (R-Ky.)
tried to lend a hand
.
Tea party hero Rand Paul warned scientific advancements could lead to eugenics during a Monday visit at Liberty University, looking to boost the political fortunes of fellow Republican Ken Cuccinelli's bid for governor. During a visit to the Christian school founded by Jerry Falwell, Paul looked to energize conservative supporters by warning that people who are short, overweight or less intelligent could be eliminated through abortion. With one week remaining, Cuccinelli is hoping the joint appearance with the U.S. senator from Kentucky will encourage the far-right flank of his party to abandon third-party libertarian spoiler Robert Sarvis.
According to the AP report, the Kentucky Republican argued, "In your lifetime, much of your potential -- or lack thereof -- can be known simply by swabbing the inside of your cheek. Are we prepared to select out the imperfect among us?"
Note, for much of the year, Cuccinelli has hoped to appear more mainstream, downplaying his right-wing positions on culture-war issues fearing a voter backlash in this increasingly "purple" state.
But in the campaign's closing week, that playbook has been thrown out the window in favor of base-mobilization. In this case, we have a quirky U.S. senator going to Jerry Falwell's college -- a school where dancing and short skirts are
prohibited
, but loaded guns are permitted in classrooms -- to suggest reproductive rights start the nation on a slippery slope to eugenics, all with Cuccinelli looking on, hoping Rand Paul's appearance might help, at least a little.
Of course, with a massive gender gap making success increasingly unlikely for Cuccinelli, this morning's news probably isn't the sort of help the state Attorney General needed.
As for the junior senator from Kentucky, the issue of genetics and abortion are apparently on Rand Paul's mind -- he spoke at a Right to Life rally a couple of weeks ago, and
spent 15 minutes
talking about the 1997 movie, "Gattaca."