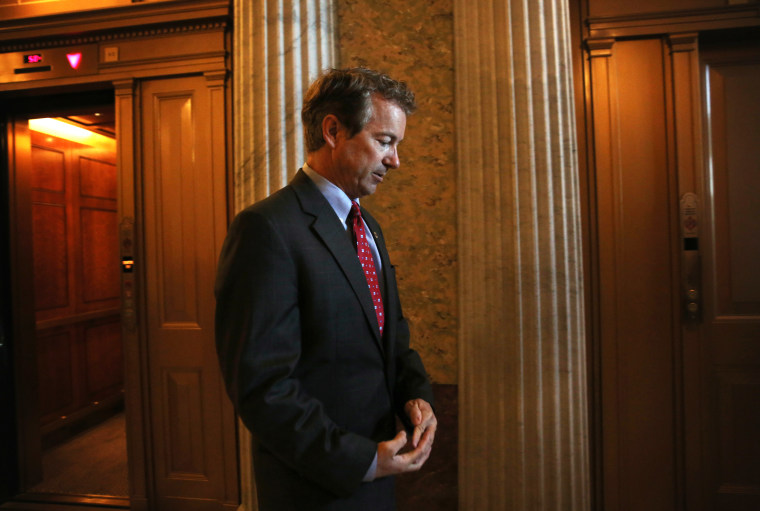 Kentucky Republican Sen. Rand Paul is going after the National Security Agency – in court this time. "I am filing a lawsuit against President Barack Obama because he has publicly refused to stop a clear and continuing violation of the 4th Amendment," Paul said in a statement Tuesday announcing his filing of a class-action lawsuit against the NSA. "The Bill of Rights protects all citizens from general warrants. I expect this case to go all the way to the Supreme Court and I predict the American people will win." Paul is teaming up with former Virginia Attorney General Ken Cuccinelli and the conservative advocacy group Freedomworks in filing the suit against the NSA over its collection of phone records from American telecommunications companies.
At the outset, there are some relevant questions surrounding the senator's new lawsuit. For example, if there's
already
a pending federal case, filed months ago by conservative provocateur Larry Klayman, raising the identical concerns, isn't Rand Paul's lawsuit redundant?
For that matter, why did Paul wait so long between saying he'd file the suit and actually going to court? Why did the Kentucky Republican run this entre effort
through his campaign operation
instead of his Senate office?
But by last night, an unexpected question had emerged: was the text of Paul's lawsuit stolen from someone else? [Updated below.]
A few months ago, the GOP senator found himself in the middle of
a humiliating plagiarism scandal
. As we documented in detail at the time, Paul presented others' work as his own, on a wide variety of occasions, and in several types of media (speeches, op-eds, and books). After presenting a series of odd and unpersuasive defenses, Paul eventually acknowledged that he and his staff had "made mistakes" -- but he was still
a victim
of journalists who accurately reported on his missteps.
The controversy eventually faded, but the
Washington Post
's Dana Milbank
reports
that Paul, already caught plagiarizing late last year, is now being accused of stealing his NSA lawsuit from its author.
Since December, the libertarian lawmaker, a tea party favorite, had been working with former Reagan administration lawyer Bruce Fein to draft a class-action suit seeking to have the National Security Agency's surveillance of telephone data declared unconstitutional; the two men appeared together as early as last June to denounce the NSA's activities. But when Paul filed his suit at the U.S. District Court in Washington on Wednesday morning, Fein's name had been replaced with that of Ken Cuccinelli, the failed Republican gubernatorial candidate in Virginia who until last month had been the state's attorney general. Cuccinelli has never argued a case in that courthouse, and he isn't even a member of the D.C. bar (he also filed a motion Wednesday seeking an exception to allow him to argue this case in D.C.). But he is, like Paul, a tea party darling.
Fein, a well-known D.C. constitutional lawyer, especially prominent in Republican circles, was reportedly supposed to be paid by Rand Paul's political action committee, but according to Milbank's reporting, he has not yet been fully compensated for his work. That Fein's name was apparently removed from the lawsuit that Fein wrote only adds insult to injury.
Milbank has seen both documents and told readers, "[A] Jan. 15 draft of the complaint written by Fein has long passages that are nearly identical to those in the complaint Cuccinelli filed Wednesday. Except for some cuts and minor wording changes, they are clearly the same documents."
The senator was supposed to have a conference call with reporters yesterday afternoon to talk about his new lawsuit. That call was later canceled.
Update
: The executive director of Paul's PAC
insists
Fein "was paid for work on this matter." What's more, while Milbank quotes Fein's ex-wife as the attorney's spokesperson, Paul's group produced an email from Fein saying she does not speak for him.
Second Update
: Bruce Fein
confirmed to msnbc
this morning that the concerns raised by his spokesperson "did not represent" his views.
Final Update
: Upon further reflection, the story
is murkier
than the latest defense suggests. Taken together, it's not unreasonable to conclude that Rand Paul's operation
apparently took Fein's work
, used it, failed to give him credit, and failed to fully compensate him for his time and effort.