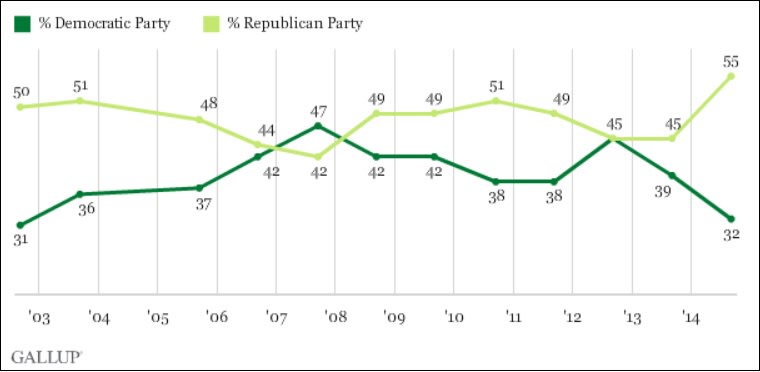 On the deficit, for example, Reagan ran some of the larger budget shortfalls in history, after promising to do the opposite, and George W. Bush inherited a massive surplus and bequeathed a $1.2 trillion deficit. Clinton, meanwhile, created the first balanced budget in a generation, while Obama has overseen the fastest U.S. deficit reduction since the end of World War II.
And if you ask Americans which party they believe will do more to reduce the deficit, most will point to Republicans. The reasons for this have a lot to do with branding -- the GOP has a reputation on the issue, which much of the country accepts, despite the fact that decades of reality should lead the country in another direction.
The Republican Party has expanded its historical edge over the Democratic Party in Americans' minds as being better able to protect the U.S. from international terrorism and military threats. At this point, 55% of Americans choose the GOP on this dimension, while 32% choose the Democratic Party. This is the widest Republican advantage in Gallup's history of asking this question since 2002.
The specific wording of the question was, "Looking ahead for the next few years, which political party do you think will do a better job of protecting the country from international terrorism and military threats, the Republican Party or the Democratic Party?"
As Gallup's chart shows, the Republican advantage briefly disappeared towards the end of the Bush/Cheney era, but that obviously didn't last.
But like deficit polls, the perceptions appear to be driven almost entirely by branding, without much regard for actual events.
To be sure, there's ample room for debate about the merits of Obama's national-security policies. The president's critics on the left have raised important and legitimate questions about the administration's tactics, including its reliance on drone strikes and risky interventions in Libya and elsewhere. There are also questions about the legality of the White House's efforts.
That said, when it comes to polling, the notion that Republicans would enjoy a massive advantage over Democrats on "protecting the country from international terrorism" doesn't line up with what's actually transpired in recent years.