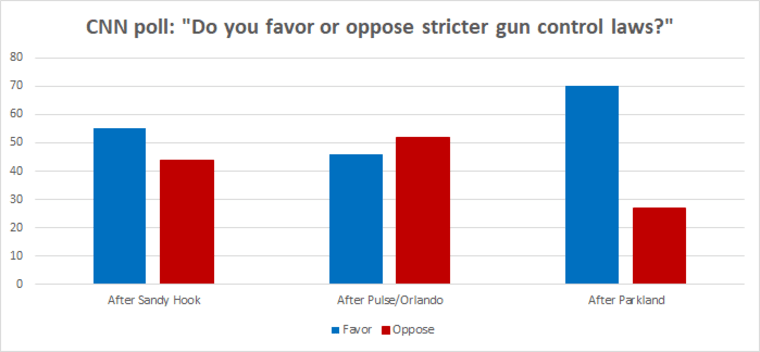 At an event in Florida last week, Sen. Marco Rubio (R-Fla.) seemed displeased when his constituents applauded the idea of banning consumer access to semiautomatic rifles. The morning after, the Republican senator said such an approach would be outside "the mainstream."
As a factual matter, Rubio's understanding of public attitudes is clearly askew, but just as importantly, he and the rest of the political world should probably pause to appreciate just how much "the mainstream" has shifted of late.
Support for stricter gun laws has spiked to the highest level since 1993, and almost two-thirds say government and society can take action to prevent future mass shootings, according to a new CNN poll conducted by SSRS.The findings suggest the school shooting in Parkland, Florida, has shifted public opinion on gun laws in a way other recent mass shootings have not.Overall, 70% now say they back stricter gun laws, up from 52% who said so in an October poll not long after a mass shooting in Las Vegas killed 58 people. Just 27% oppose stricter laws.
To be sure, it hasn't quite been two weeks since the mass shooting in Stoneman Douglas High School, but if it feels like the reaction to the gun violence is different this time, it's not your imagination.
After the Sandy Hook massacre and Las Vegas slayings, for example, CNN polling found about 37% of Americans "strongly" favored stricter gun control laws. Now, it's 52%.
After Sandy Hook, about a third of Americans said government and society could take action that would be effective in helping prevent future tragedies. After Las Vegas, it was up to 47%. Now, it's 64%.
There are some aspects of this that are not yet clear. We don't know, for example, whether this is a short-term shift, which will fade when the immediacy of the bloodshed is no longer at the forefront of the public's consciousness. We also don't know whether Republican policymakers, generally resistant to any new gun laws, are going to ignore public attitudes, just as they did during recent fights over health care, immigration, and tax policy.
I'd also love to hear from polling experts whether -- and to what degree -- the broader support for new gun restrictions is tied to a broader public backlash to Donald Trump and his far-right agenda. In other words, 70% of Americans now support a more progressive approach to gun laws, but how much of that is the result of the prevailing political winds blowing to the left, bolstering the "resistance"?
Regardless, if the momentum on this issue can be sustained in the coming months, the Parkland issue may have helped change the 2018 midterms in a way the right won't like.
Postscript: In this poll, 57% of Americans said they'd support "a ban on the manufacture, sale and possession of rifles capable of semi-automatic fire." Someone should probably let Marco Rubio know.