Jeb Bush is not new to politics. His father was president of the United States, his brother was also president of the United States, and he's a former two-term governor of one of the nation's largest states, eyeing a race for national office himself.
And yet, Bush nevertheless makes comments
like these
.
Former Florida Gov. Jeb Bush (R) recommended President Obama invite Speaker John Boehner (R) to hit the links. [...] "It would be good for our country if political leaders actually took that to heart," Bush told "Politics Confidential." "I'd like Barack Obama, who seems to be an avid golfer, to quietly invite John Boehner out to hit them up."
Let's note that Obama did invite Boehner to
a golf outing
in June 2011, and a month later, the Speaker said he would crash the global economy on purpose unless Democrats met Republican demands. (Bush said he's aware of this, but said this round of golf didn't count in his eyes, because it was "publicized." It only counts, Bush said, if Obama "quietly" invites Boehner.)
"Read the books about the times of Kennedy and Nixon and Johnson and Reagan and Bush and Clinton and Bush and Carter, and you'll find that there was a lot more engagement and a lot more trust that was built up, because there was this personal interaction," Jeb Bush said yesterday.
I find this quite remarkable, not only because the "schmoozing" argument is as stale as it is silly, but also because fair-minded observers should know better by now.
Let's make this plain: Obama and Boehner get along fine. As both of the leaders' aides freely admit, their personal relationship isn't a problem at all.
The two men could golf every day, watch TV together, trade friendship bracelets, and send BFF messages back and forth between their offices, and it wouldn't change the fact that the radicalization of congressional Republicans has effectively broken the legislative process.
Senate Majority Whip Dick Durbin (D-Ill.)
noted yesterday
that an unnamed leading House Republican told the president, "I cannot even stand to look at you" during negotiations over the government shutdown. Does this sound like a problem a round of golf can address?
Indeed, last month, the revised
Vote View tabulations
were released on congressional polarization. Have you seen this chart lately?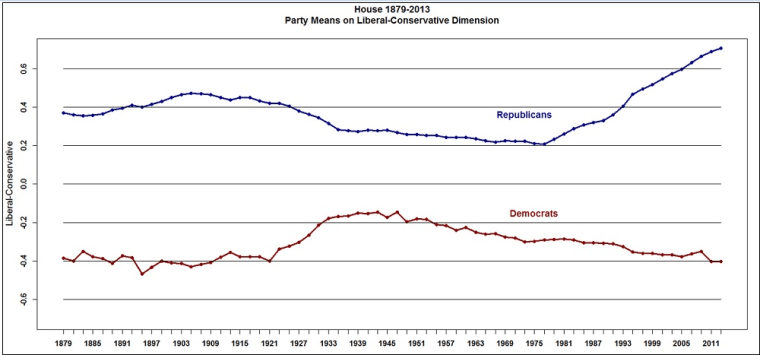 When we talk about the radicalization of congressional Republicans, it's not just subjective -- it's quantitative.
This is not a problem of personal interactions and it has nothing to do with the president's fondness (or lack thereof) for schmoozing. It's about the political world coming to terms with the fact that today's congressional Republicans have been radicalized to an extent without precedent in modern American politics.