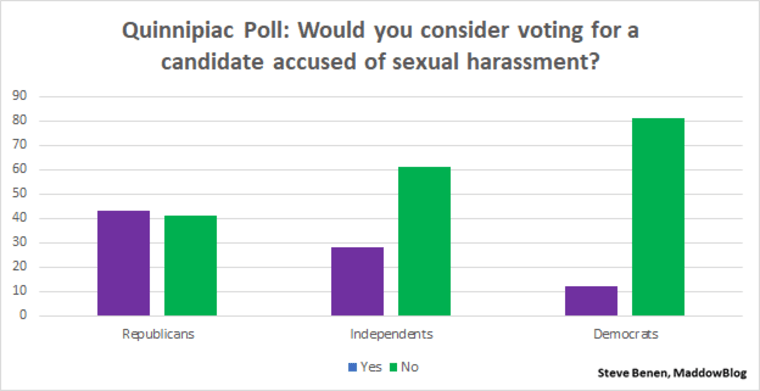 There's no reason to see sexual misconduct as a partisan issue. Politicians from both parties have faced credible allegations, and that's likely to continue as the societal scandal continues to unfold.
But a Quinnipiac poll released yesterday suggests there's a gap in how partisans perceive the seriousness of the issue. The question read:
"If a political candidate has been accused of sexual harassment by multiple women, would you still consider voting for them if you agreed with them on the issues, or would you definitely not vote for them?"
In areas such as age and ethnicity, the differences were modest, but the partisan split was enormous. Among Republicans, a narrow plurality -- 43% to 41% -- would consider supporting a candidate accused of sexual harassment by multiple women.
Among independents, a 61% majority said they wouldn't consider voting for such a candidate, and among Democrats, that number was 81%.
It's likely results like these will influence how politicians and their allies respond to sexual-harassment controversies. Indeed, if the Democratic base has one set of expectations, and the Republican base approaches the issue in an entirely different way, it's may be inevitable that Dems facing credible allegations of wrongdoing are more likely to resign or withdraw -- because that would be in line with the demands of their party's voters.