UPDATING, 7:18 AM TUESDAY: New York City Mayor Michael Bloomberg says that the occupy party of Occupy Wall Street is over, and that protesters will no longer be allowed to bring tents, sleeping bags or tarps into the park: "Protestors have had two months to occupy the park with tents and sleeping bags. Now they will have to occupy the space with the power of their arguments." It sounds like a couple of hundred people have gathered in nearby Foley Square and may be planning to march back to the park. We're hearing arrest totals in the dozens.
About a month ago, the New York Police Department tried to clear the camp. That time, they let people know earlier in the day. The occupiers, with the help of organized labor, gathered enough people at the park then to make clearing it too ugly a prospect for New York City officials. This time, they were told at 1 AM.
PREVIOUSLY:
Overnight we've been watching the live stream from Liberty Park where police have told protesters that their encampment is a fire hazard. Video has shown the contents of the park being piled into heaps under the Joie de Vivre sculpture and thrown into dumpsters.
Police have reportedly secured a wide perimeter around the park, moving anyone not in the park away. Supporters responding to the call to rally at the park have gathered in Foley Square (below) as an alternative to the inaccessible Liberty Park.
Police have also locked down the area surrounding the New York Stock Exchange.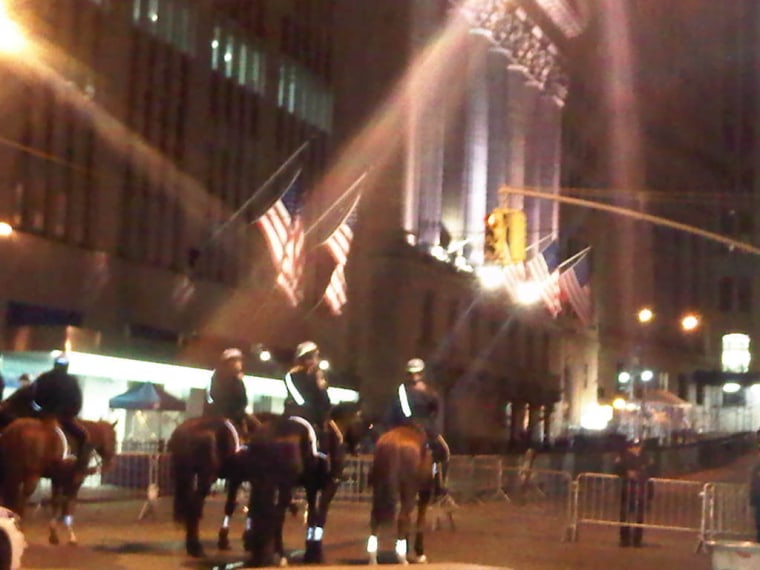 Given the lack of access and the general confusion, rumors are rampant, so I'm hesitant to say any more than this. Presumably in a couple of hours the facts will begin to solidify.
ALSO: Dicey Troop has several videos from within the park, including the destruction of the kitchen.
AND: RT @AntDeRosa Good list of ground reports via @agreatbigcity http://t.co/vWqoGuvf #OWS