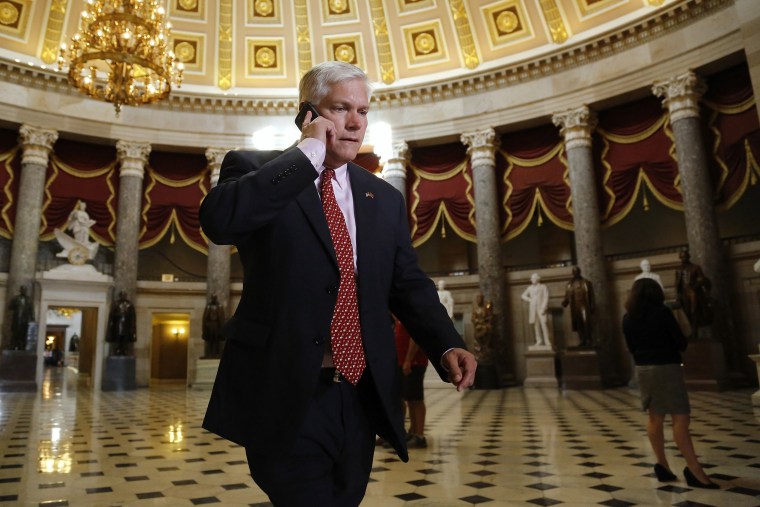 The debate isn't yet over, and congressional Democrats continue to search for a way to extend jobless aid, despite GOP objections. As the process continues to unfold, though, keep an eye on the changing nature of Republican arguments.
For quite a while, the line among conservative lawmakers was simple: unemployment benefits encourage lazy Americans not to work, so cutting off benefits will create an incentive to get these struggling folks off the couch. Indeed, at least one Republicans
actually argued
that jobless aid does a "disservice to these workers" and "weakens" the United States.
In time, GOP lawmakers shifted their position, agreeing that they'd consider the policy they oppose if Democrats accepted a variety of concessions. But yesterday, a leading House Republican
went backwards
, returning to his party's original position.
House Rules Committee Chairman Pete Sessions (R-Texas) said Tuesday that it would be "immoral" to extend benefits to the long-term unemployed.... Sessions said he told Democrats that the answer was not extending benefits, but working with Republicans to create jobs. "I believe it is immoral for this country to have as a policy extending long-term unemployments [sic] to people rather than us working on creation of jobs," Sessions said. "A job is the most important attribute, I believe, in a free enterprise system."
It's an odd argument. For one thing, it's not at all clear why the Texas Republican believes unemployment aid is "immoral," and when the Huffington Post asked his office to explain the argument, Sessions' aides didn't respond.
For another, not only have the congressman and his GOP colleagues balked at Democratic jobs bills in recent years, but if Congress extended unemployment benefits, independent estimates have projected the aid would create between 200,000 and 300,000 jobs.
In other words, if job creation is the goal, here's a pretty easy way to create jobs while helping struggling Americans keep their heads above water. What's "immoral" about that?
In the meantime, Senate proponents of the proposal, after having fallen short against a Republican filibuster twice last month, hope the third time will be the charm
tomorrow
.
The Senate will take another shot at passing legislation this week that would renew a federal unemployment benefits program although Republican complaints about the process could hamper progress. Senate Majority Leader Harry Reid (D-Nev.) has set up a cloture vote for Thursday on a new measure that would provide a three-month reauthorization of the emergency program that is paid by extending a "pension smoothing" provision.
The bill already enjoys the support of the Senate majority, but it'll need 60 votes to overcome GOP obstructionism. As of yesterday  afternoon, it appeared to have
58 votes
, so between now and tomorrow, supporters will need to find two more Republicans willing to support the temporary, bipartisan measure.
For his part, Senate Minority Leader Mitch McConnell (R-Ky.) is still demanding a series of amendments, which are unlikely to have anything to do with unemployment benefits, as a price for allowing senators to vote.
What about the bill's long odds in the House? And what Congress might do after the three-month extension is up? Proponents are well aware of the hurdles, but for now, are taking them one at a time.