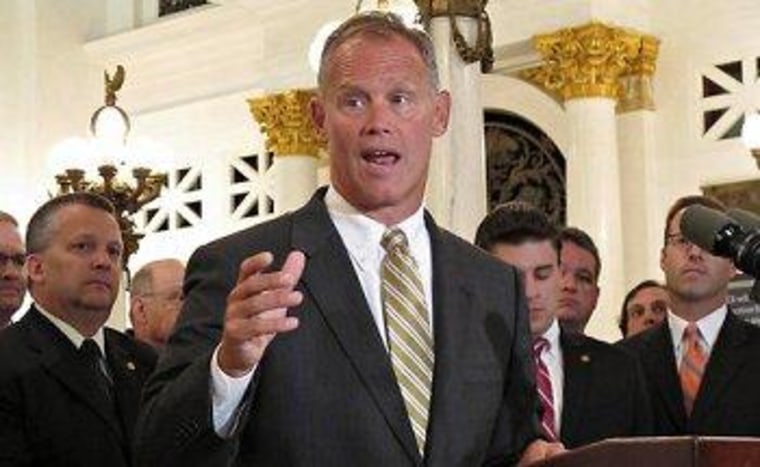 Republican Mike Turzai, Pennsylvania's House Majority Leader, made quite a name for himself over the summer when he boasted that the state's voter-ID law, ostensibly about the integrity of the electoral process, "is gonna allow Governor Romney to win the state of Pennsylvania."
That plan didn't go well -- courts rejected the voter-suppression effort and President Obama won the Keystone State with relative ease. But Turzai isn't done rolling out election schemes (via my colleague Laura Conaway).
A Pennsylvania lawmaker is proposing making the state the only one to divide its electoral votes based on a presidential candidate's percentage of public support, a method that would have helped Republican Mitt Romney on Nov. 6.
Senate Majority Leader Dominic Pileggi, a Republican from Chester, wants to replace the winner-take-all system, which gave President Barack Obama the state's 20 electoral votes, with one that divides them to reflect the proportion of votes cast for each candidate. His method would have awarded 12 votes to Obama and eight to Romney had it been in force this year.
It's understandable that Pennsylvania Republicans would consider efforts like these, and Pileggi's proposal reportedly has the support of Gov. Tom Corbett (R). The Democratic presidential candidate has won the state in six of the last six elections, and it's easier to "fix" the system than earn public support.
But as I wrote about a year ago, that doesn't make efforts like these any less ugly. As Ian Millhiser explained, "Pileggi's plan is nothing more than a proposal to steal electoral votes that are overwhelmingly likely to be awarded to the Democratic candidate under the current system and give them away to the Republican candidate."
Last year, this identical effort fizzled when congressional Republicans balked fearing the shift might endanger their seats. The fact that Pileggi is back at it, however, suggests the state GOP takes the plan seriously, and is well worth watching.