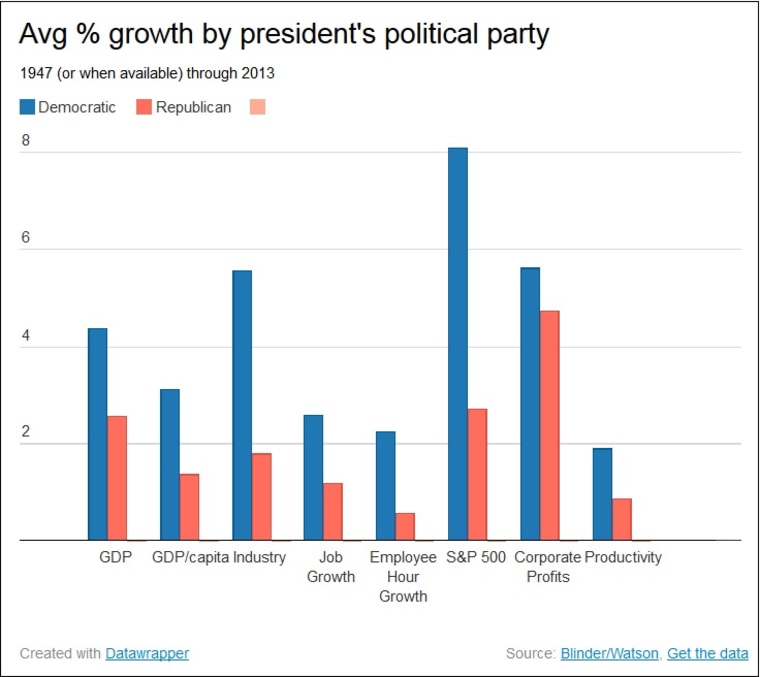 Which leads to the obvious question: Why? For Dems, a bit of good fortune may be involved.
Why is the US economy so unapologetically partisan? Do the laws of supply and demand have a liberal bias? Are Democrats better at governing for growth? Do these graphs prove something fundamental about the superiority of Keynesianism? Maybe none of the above. Blinder and Watson propose that the answer has less to do with policies -- taxing, spending, redistributing -- and more to do with dumb luck. "The Democratic edge stems mainly from more benign oil shocks, superior [productivity growth], a more favorable international environment, and perhaps more optimistic consumer expectations about the near-term future," they wrote.
I should mention that the observation itself isn't entirely new. Michael Kinsley
covered
this fairly closely six years ago, and he pushed back, albeit gently, against the "dumb luck" explanation.
"Some people believe that the president has little or no effect on the economy. If so, that would be a serious flaw in this exercise," Kinsley wrote in 2008. "But it would also be a serious flaw in the exercise called democracy, since people tell pollsters that the economy is the most important issue for them in deciding whom to vote for. No doubt any particular bad year in any of these statistics can be explained by some extrinsic special event -- a war, for example. But surely patterns that emerge over half a century account for these."
For their part, Blinder and Watson's thesis is well argued and crafted carefully, but as Brad Plumer
explained
, their explanation doesn't answer every relevant question.
For one, the authors note that their four preferred factors -- oil shocks, productivity growth, international conditions, and consumer expectations -- still only explain about half the difference in growth rates. "The rest remains, for now, a mystery of the still mostly-unexplored continent," Blinder and Watson write. "The word 'research,' taken literally, means search again. We invite other researchers to do so." As noted above, it's also not clear how much policy can influence the factors they call "luck" -- things like oil shocks or productivity growth or consumer expectations. Perhaps these are things that presidents can have a lot of influence over. Or perhaps these are factors they can only affect at the margins. Figuring that out wouldn't just be worthwhile for purposes of bragging rights -- it'd be useful to know if there are policies that really can produce such a consistent and large boost to economic growth.
True, though it's a democracy and partisan bragging rights matter, too. Why Democrats don't run around boasting about reports like these is a mystery to me -- if Republicans had a talking point like this at their disposal, I suspect we'd never hear the end of it.