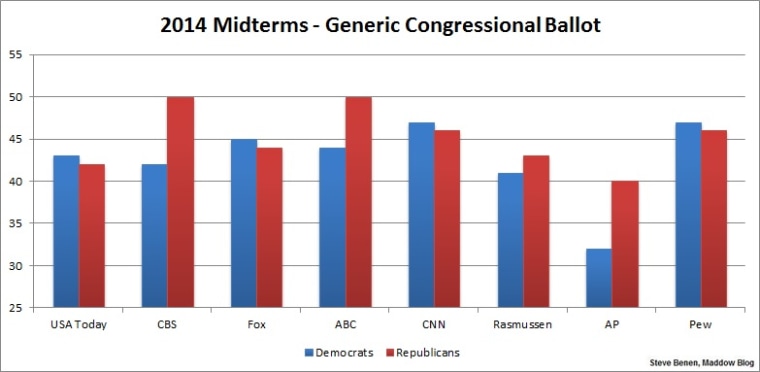 Four years later, the GOP is well positioned to have a very good night next Tuesday, but 2014 is
clearly not
2010.
Among all registered voters, the Democratic congressional candidate is preferred over the Republican by five points, 45%-40%. But among those who indicate in a series of questions that they are likely to vote, that advantage shrinks to a single point, 43%-42%.
That's from a USA Today poll released yesterday afternoon, showing a plurality of voters actually preferring Democratic candidates, prevailing political winds notwithstanding.
Perhaps it's an outlier? It's possible, though over the last two weeks, eight national polls have published generic-ballot results, and in half of them, Dems had a narrow edge -- including, oddly enough, the Fox News poll. (I pulled those polls together in the above chart.)
How many national polls showed Democrats with any kind of generic-ballot lead at this point four years ago? Zero.
Early-voting data also shows a political landscape that's far from one-sided.
Nate Cohn
reported
this morning that the early-voting numbers "look good for Democrats," with the party's targeting efforts "paying off in several Senate battleground states."
More than 20 percent of the nearly three million votes already tabulated in Georgia, North Carolina, Colorado and Iowa have come from people who did not vote in the last midterm election, according to an analysis of early-voting data by The Upshot. These voters who did not participate in 2010 are far more diverse and Democratic than the voters from four years ago. On average across these states, 39 percent are registered Democrats and 30 percent are registered Republicans. By comparison, registered Republicans outnumbered Democrats in these states by an average of 1 percentage point in 2010. The turnout among black voters is particularly encouraging for Democrats, who need strong black turnout to compete in racially polarized states like Georgia and North Carolina. In those two states, black voters so far represent 30 percent of the voters who did not participate in 2010. By comparison, 24 percent of all those who voted in those states in 2010 were black.
Just so we're clear, if Democratic voters are reading this and thinking, "Everything's going to be fine!" they're mistaken. Republicans are going to have a good year. Period. Full stop. It doesn't look like a 2010-style wave is developing for the GOP right now, but Republicans don't need to ride a wave to seize control of the Senate and celebrate next Tuesday night.
Rather, the point is there's still some question as to whether the GOP's gains can be limited, creating a cycle in which Republicans have a good-but-not-great election cycle. And on that front, Democrats appear to be competing surprisingly well.