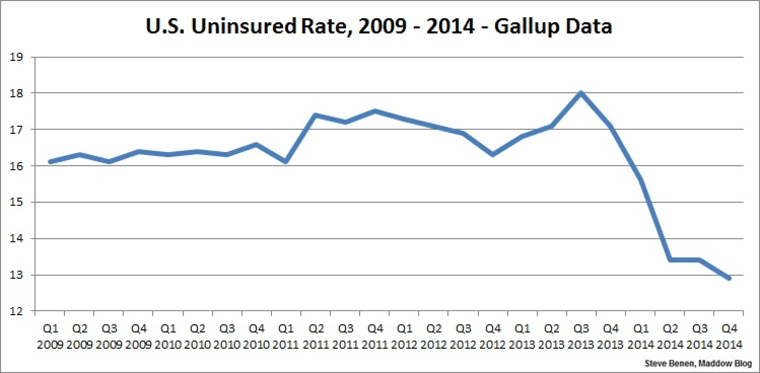 The uninsured rate among U.S. adults for the fourth quarter of 2014 averaged 12.9%. This is down slightly from 13.4% in the third quarter of 2014 and down significantly from 17.1% a year ago. The uninsured rate has dropped 4.2 percentage points since the Affordable Care Act's requirement for Americans to have health insurance went into effect one year ago. The uninsured rate declined sharply in the first and second quarters last year as more Americans signed up for health insurance through federal and state exchanges.... While the uninsured rate has declined across nearly all key demographic groups since the Affordable Care Act went into effect a year ago, it has plunged most among blacks and lower-income Americans. The uninsured rate among blacks dropped seven points over the past year, while the rate among Americans earning less than $36,000 in annual household income dropped 6.9 points.
In other words, the very people who need the most support are the people benefiting most from the improved system. They're also the families who'll suffer most if the Republican court case succeeds.
To deny the recent successes of the Affordable Care Act is to bury one's head in the sand.