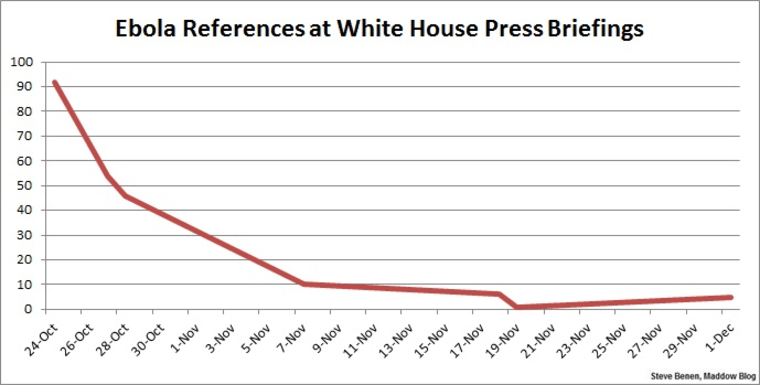 According to the advisory for the event, a portion of the president's remarks will be devoted to praising work done by the medical research community in combating the deadly virus -- including slowing the growth rate of infections in West Africa, treating patients in the United States and conducting a Phase 1 clinical trial for a promising vaccine. But the visit won't be an exclusively celebratory affair. The president, according to aides, is traveling to the NIH's bucolic Bethesda campus because the proverbial clock is ticking on a biomedical emergency that remains unresolved. With just days to go before Congress must fund the government, fears are mounting that the administration's request for billions of dollars to help combat Ebola will go underfunded or even unaddressed.
Right. Ebola was not a fad that fell out of fashion after Republicans no longer saw value in exploiting public anxiety for partisan gain. The threat is still real. The virus is still deadly. The ongoing effects are still devastating in parts of West Africa.
The need for Congress to invest in a meaningful response is no different today than when congressional candidates were using Ebola in campaign commercials six weeks ago.
Indeed, while we wait to see how Congress responds to the White House's emergency funding request, I still wish the political conversation would circle back to Ebola, not only because the deadly virus still deserves attention, but to a lesser extent, because some accountability is still warranted.