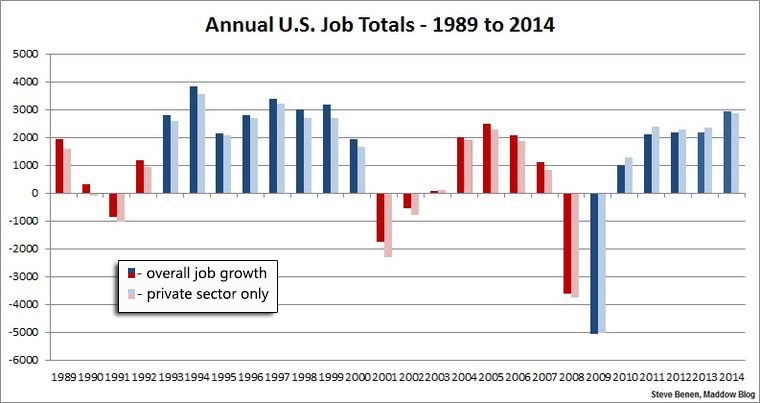 But in light of
the new job numbers
, the motivation behind McConnell's ridiculous rhetoric is at least understandable -- it's been a long while since Americans have seen job growth like this.
How long, exactly? Well, the unemployment rate has
fallen to 5.6%
-- its lowest point in nearly seven years -- but that's not always the best metric to watch. Rather, the figures I care about most are straight-up job creation totals, and by this metric, 2014 was the best year since 1999.
Following up on
a report
from a month ago, above is a chart showing job growth by year for the four most recent presidential administrations -- the blue columns point to the two Democratic administrations (darker blue for overall job growth, lighter blue for private-sector-only growth), and the red columns point to the two Republican administrations (darker red for overall job growth, lighter red for private-sector-only growth).
Notice, 2014 isn't just an encouraging year as compared to other years in the Great Recession era; it's actually a strong year on its own. Indeed, more jobs have been created this year than in any year of the Bush/Cheney era -- or the Bush/Quayle era, for that matter.
The Clinton era is, for good reason, generally seen as the best American economic period in recent memory, and the above image certainly helps show why. But take a closer look and you'll notice this year's job growth is actually stronger than four of the eight Clinton years.
For Republicans, who suddenly want credit for the economy, all of this should be impossible. As far as GOP lawmakers are concerned, President Obama's agenda of health care reform, burdensome regulations, Dodd/Frank, and the Affordable Care Act are crushing the domestic economy, stifling the job market like a "wet blanket."
And yet, here we are.
Try to imagine what the political world would be saying right now if we were just wrapping up the second year of the Romney presidency.
Postscript: I should note that today's job totals for December are preliminary and will be revised in the coming weeks. That said, these revisions are nearly always fairly modest -- indeed, lately the revisions tend to point to increased, not decreased, totals -- and will not change the fact that 2014 was the best year for jobs in 15 years.