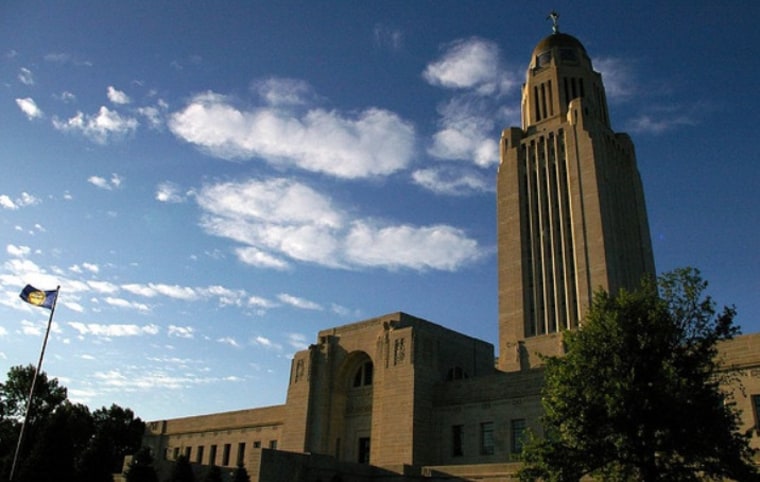 Last year in Virginia, for example, state Republican lawmakers insisted on
changing the wording
of a study prepared by scientists, replacing "sea level rise" with "recurrent flooding." According to one GOP official, the change was necessary because "sea level rise" is a "left-wing term."
Around the same time, state Republican lawmakers in North Carolina went even further. A state-appointed science panel warned officials that sea levels will rise 39 inches over the next century and said North Carolina needs to prepare. Republicans
balked
and demanded that the scientific evidence be rejected, relying instead on a historical model to set expectations. North Carolina would prepare for only 8 inches of sea level increase, since that's what happened over the previous century.But in Nebraska, state Republican lawmakers decided they'd like to affect scientific reports
before
they're published, not after. Lindsay Abrams
reported
yesterday:
A study on the impact of climate change on Nebraska, recently approved by the state, may not be carried out -- because its own scientists are refusing to be a part of it. The problem, according to members of the governor-appointed Climate Assessment and Response Committee, is that the bill behind the study specifically calls for the researchers to look at "cyclical" climate change. In so doing, it completely leaves out human contributions to global warming.
A Republican state senator named Beau McCoy, a climate denier, added the problematic language to the proposal, insisting that global warming is the result of "normal, cyclical changes." Barbara Mayes, a meteorologist with the National Weather Service, tried to explain yesterday that in climate science, "cyclical"
isn't even a real term
.
This
Omaha World Herald
report adds that the state's drought and climate task force is now filled with scientists who don't want to be associated with the report requested by the legislature. The legislature mandates that the Climate Assessment and Response Committee limit its investigation to "cyclical" climate change, and since that's politicized gibberish, the panel doesn't see the point in preparing a bogus report.
"I don't want my name on something ... and be used as a political pawn," Al Dutcher, Nebraska state climatologist, said yesterday.
Ideally, far-right policymakers would take a more reality-based approach to science. Barring that, if they'd just leave scientists alone, it'd be a good start.