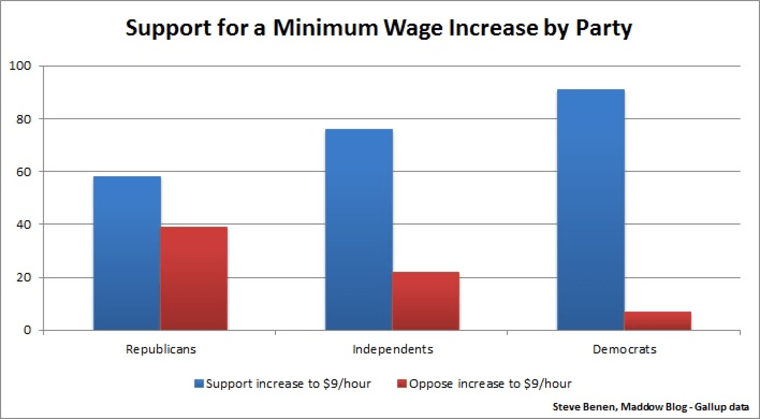 Democratic policymakers in Washington
haven't given up
on fighting for a minimum-wage increase, and as the legislative effort gets underway in earnest, Dems at least know the American mainstream is on their side.
Gallup published
a new poll
yesterday showing that a whopping 76% of Americans support raising the minimum wage from $7.25 an hour to $9. That's up five points from the early spring -- President Obama
pushed this idea
in his State of the Union address in February -- and it's one of those rare proposals that enjoys majority support from Democrats, Republicans, and independents.
The poll asked about the idea of raising the minimum wage to $9 an hour while also including "automatic increases tied to inflation," and though this isn't quite as popular, it still enjoys overwhelming public support -- 69% endorse the idea while only 28% are against it.
Polls like this will matter quite a bit as congressional Democrats push a measure, written by Sen. Tom Harkin (D-Iowa) and Rep. George Miller (D-Calif.), to increase the federal minimum wage to $10.10 per hour. The Senate leadership has already vowed to bring the measure to the floor before New Year's -- possibly even
before December
-- and the legislation has been
endorsed by the White House
.
For Republicans, this won't be an easy vote. The party broadly opposes the idea -- a few GOP senators have recently made the case that the minimum wage
should be lowered to zero
-- but Republicans also realize that rejecting such a popular proposal gives Democrats a powerful wedge issue going into the 2014 midterms.
"This could put Republicans in a pickle, but it doesn't have to," a Democratic leadership aide
told Sahil Kapur
last week. "Increasing the minimum wage has passed with huge bipartisan majorities the last two times the Senate has voted to raise it, and our package will include tax breaks for small businesses. Republicans will have every reason to vote for the minimum wage increase but if they don't, it will be crystal clear to American families which side they're on."
There's also the question of how many times congressional Republicans intend to ignore the overwhelming wishes of the American mainstream. GOP lawmakers have already taken firm stands against popular measures on job creation, gun safety, immigration, civil rights, and health care. How eager will they be to balk at a minimum-wage increase that Americans support by a 3-to-1 margin?
UPDATE:
Related video: