For the past couple of days I've been occupying my subway travel with working my way through this fun and fascinating paper published in Nature: Flavor Network and the Principles of Food Pairing.
The beginning idea is that the way things taste comes from their molecular make-up, so flavors can be defined in terms of their component compounds. As it happens, some of the same compounds exist in different combinations in different foods. So, different flavors, but some overlapping in terms of the compounds that make those flavors.
The researchers in this paper hypothesized that the reason ingredients in recipes work together is that they share a lot of compounds. It seems like a reasonable bet. Foods with similar flavor make-up should get along well when they're eaten together, right?
So they set out building a database. They loaded up tens of thousands of recipes, and broke down the most common ingredients into their flavor compounds. The paper is full of beautiful renderings of the data like the one above, showing the frequency of an ingredient's use, the color-coded category of food the ingredient belongs to and the number of flavor compounds the ingredients share.
But then, in a shocking twist, the hypothesis doesn't pan out. It turns out that Western food does indeed pair ingredients that share more flavor compounds, but East Asian food avoids those connected combinations.
They go on to wonder if maybe the lesser ingredients are throwing off the real answer so they look at just the most basic ingredients (and ingredient pairs and triplets). But still no.
But all is not lost. They did find that interesting bit about the Western/Eastern food, and with the principle ingredient study they find some other interesting characteristics of regional foods. And overall they have a good attitude about the value of the work they did and what would make the research better, so the failure of the hypothesis doesn't feel like a defeat. Plus, as I mentioned, when you read the paper you get to ponder visualizations like this: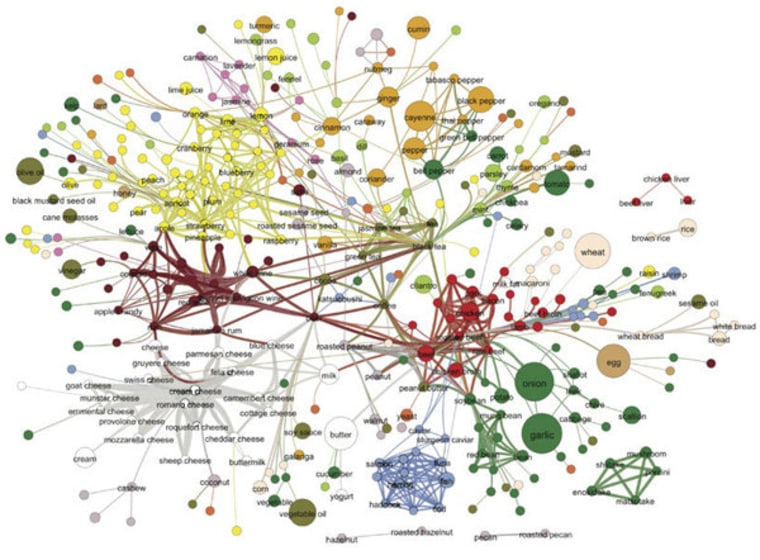 Go. Click.