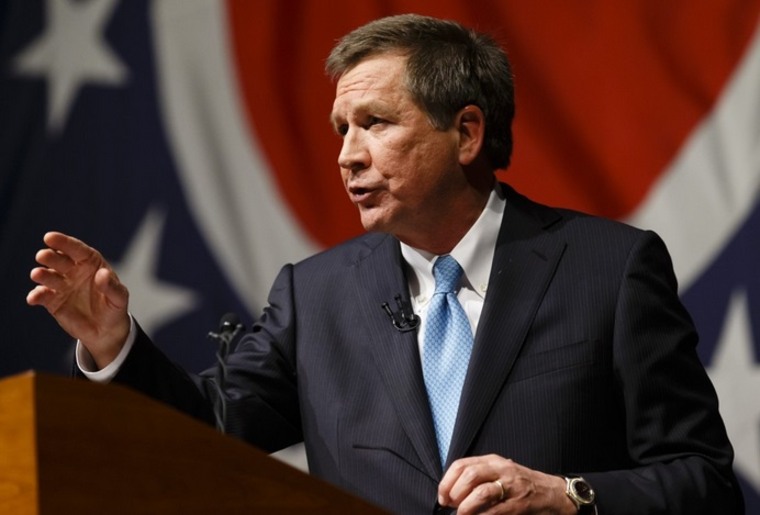 Because Kasich used a controversial maneuver to secure the policy, litigation was inevitable. And sure enough, almost immediately after the decision was announced, a
lawsuit was filed
on behalf of six Republican state representatives and Right to Life chapters in Cleveland and Cincinnati.
That six GOP state lawmakers would go to court to block their own party's governor from helping 330,000 low-income Ohioans is kind of odd, but stranger still is the role of the anti-abortion activists. After all, Ohio Right to Life, as a statewide entity, endorsed Medicaid expansion.
So why would two local chapters break ranks and file suit against an allied governor? My MSNBC colleague Irin Carmon
reports today
on the ways in which Medicaid is driving a wedge between these social-conservative activists.
Paula Westwood, the executive director for Right to Life of Greater Cincinnati, wanted to make one thing clear when asked why her organization was suing to block Ohio's forthcoming Medicaid expansion. "First of all, it's not that we don't care about the poor." [...] "Caring about the poor" is, in fact, the elephant in the room when it comes to the anti-abortion movement and health care access. Right-to-lifers are well aware that they're accused of only caring about the unborn at the expense of everyone else, and the state Medicaid program already refuses to cover abortion except in cases of life endangerment, rape and incest. So why oppose more poor people getting health insurance coverage? "What Medicaid expansion will do is place thousands of people on the rolls that are able-bodied, primarily men, and that opens up a whole another can of worms for disincentives for work and healthy lifestyles for these people," said Westwood.
Oh, I see. It's not that these opponents of reproductive rights are indifferent to the plight of low-income families struggling through a rough economy; it's that these activists don't want low-income families struggling through a rough economy to have access to basic health care.
That's much better. Nothing says "pro-family" like filing a lawsuit to prevent a conservative governor from improving state finances, helping state hospitals, and bringing insurance to a third of a million Ohioans, right?
Irin also talked to a Cincinnati Right to Life leader who complained that some people might finally have health insurance, which they could use to purchase "hormonal contraceptives" that he claimed "will harden the lining of the uterus so the embryo cannot implant."
First, as a matter of science, that's wrong. Second, as a matter of decency, it's none of Cincinnati Right to Life's business if consumers buy contraceptives.
And finally, if you're prepared to deny 330,000 people health care because you're that worried about contraception, maybe "Right to Life" isn't the label for you.