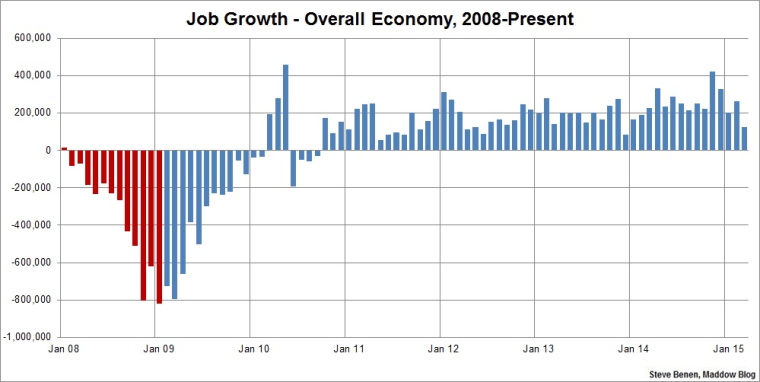 Those assumptions were wrong. The
new report
from Bureau of Labor Statistics shows the U.S. economy added just 126,000 jobs in March, well below projections and below recent averages. The overall unemployment rate remained at 5.5%, which is still a seven-year low.
Making matters slightly worse the revisions from January and February were lowered, too. The news wasn't all bad -- wages are up, which is encouraging -- but on balance, this is the worst jobs report since late 2013.
All told, the U.S. has added 3.13 million jobs over the last 12 months. The streak of 12 consecutive months of job growth over 200,000 has been snapped. That said, March was the 54th consecutive month of positive job growth -- the best stretch since 1939 -- and the 59th consecutive month in which we've seen private-sector job growth, which is the longest on record.
Above you'll find the chart I run every month, showing monthly job losses since the start of the Great Recession. The image makes a distinction – red columns point to monthly job totals under the Bush administration, while blue columns point to job totals under the Obama administration.
Update: Here's another chart, this one showing monthly job losses/gains in just the private sector since the start of the Great Recession.