In the early months of 2021, as the U.S. economy recovered from the recession that began a year earlier, Republican leaders thought it'd be a good idea to complain bitterly about the progress. House GOP Leader Kevin McCarthy insisted that President Joe Biden's economic policies "have stalled our recovery," adding, "Bidenomics is bad for America."
As regular readers might recall, around the same time, Rep. Jim Banks, the chair of the Republican Study Committee, argued that the Democratic White House's agenda was sending the economy into a "tailspin."
As 2021 came to an end, the rhetoric looked quite foolish: The U.S. economy created a record 6.7 million jobs in Biden's first year in office. As NPR noted this morning, 2022 wasn't quite as amazing, but it was still impressive by any fair measure.
The U.S. job market closed out 2022 on a high note. Employers added 223,000 jobs in December, capping a year in which the economy added 4.5 million jobs, more than refilling the deep hole left by the coronavirus pandemic two years earlier.
Circling back to our earlier coverage, before Biden's inauguration, the recent high point for job creation came during Barack Obama's second term. In Republican circles, it's taken as a given that Donald Trump oversaw an economic boom that saved us from Obama-era doldrums, but none of that reflects reality in any way.
In fact, before 2021, Americans saw the best annual job growth in the 21st century in 2014, when the economy created over 3 million jobs. The second best came a year later, when the economy created an additional 2.7 million.
Soon after, Trump took office, at which point job growth in the United States slowed down — even before 2020 recession caused by the Covid pandemic. But in 2021, the economic recovery, fueled in part by the Democrats' American Rescue Plan, generated job gains unseen in generations.
I put together this chart to help drive home the point, showing job growth by year since the Great Recession.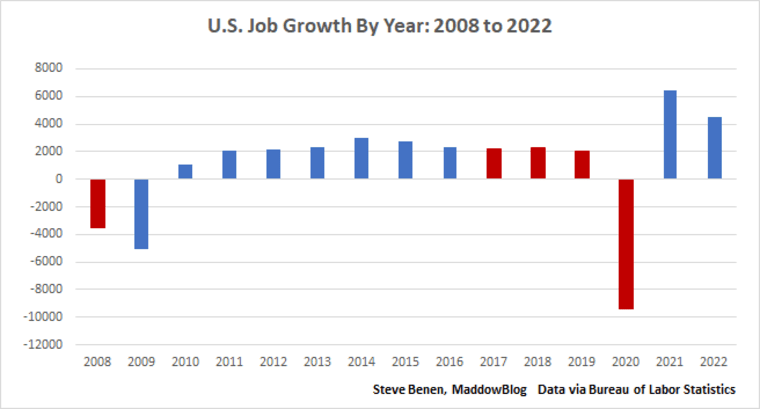 As we discussed this morning, over the course of the first three years of Trump's term, the economy created roughly 6.4 million jobs. That figure includes all of 2017, 2018, and 2019.
In 2021, however, the economy created 6.7 million jobs, followed by another 4.5 million in 2022. What's more, when Biden took office, the unemployment rate was 6.4%. Now, it's returned to 3.5% — a level the United States did not reach at any point throughout the 1970s, 1980s, or 1990s.
To be sure, context is everything. Millions left the workforce in 2020, and then returned as the economy bounced back. In other words, we're dealing with unusual historical circumstances. It's not as if anyone should expect to see 11 million jobs created every two years for the foreseeable future. I guarantee that won't happen, no matter how successful the Democratic economic agenda is.
That said, the fact remains that Republicans not only predicted economic ruin under Biden, leading GOP officials have even tried to blame Democratic president for generating "disastrous" employment data.
Reality, however, is stubborn.