Shortly before 1 p.m. ET on Tuesday, New York prosecutors finished their direct examination of Donald Bender, Donald Trump's former lead accountant. And all expectations were that the civil fraud trial would resume roughly an hour later, in accordance with the daily schedule Judge Arthur Engoron promised to more strictly enforce. But soon thereafter, it was clear something was awry.
First, during the lunch break, the parties were summoned to a conference with Engoron that reporters were not permitted to attend.
Then, at around the same time, those of us attending the trial became aware that during the morning break, Trump reposted a picture to his social media platform, Truth Social, of the judge's law clerk, Allison Greenfield, with Senate Minority Leader Chuck Schumer of New York. In the post, Trump called the clerk Schumer's "girlfriend" and used the photo to suggest yet again that the case against him is politically motivated.
And finally, when the trial was supposed to reconvene, it didn't. Instead, observers watched both Trump and then New York Attorney General Letitia James exit the courtroom before learning the trial would not resume until 3 p.m. ET. What gives, we wondered? Were the parties — against all odds — engaged in settlement negotiations? Or had word of Trump's mid-morning post reached Engoron?
The answer became blindingly clear when court resumed.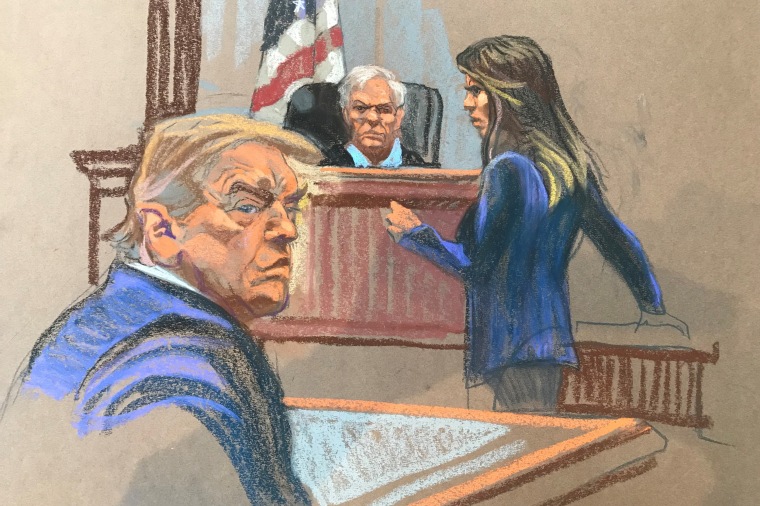 Engoron made note of the social media post and said Trump's personal attacks on his staff were unacceptable and would not be tolerated. The judge said he previously warned the parties about such attacks a day earlier.
"Consider this a gag order on all parties with respect to posting or publicly speaking about any member of my staff," Engoron said, adding that violations of his order would lead to swift, meaningful sanctions.
The picture in question was originally on an Instagram page Greenfield maintained in connection with a campaign for a civil court judgeship. That page is now private.