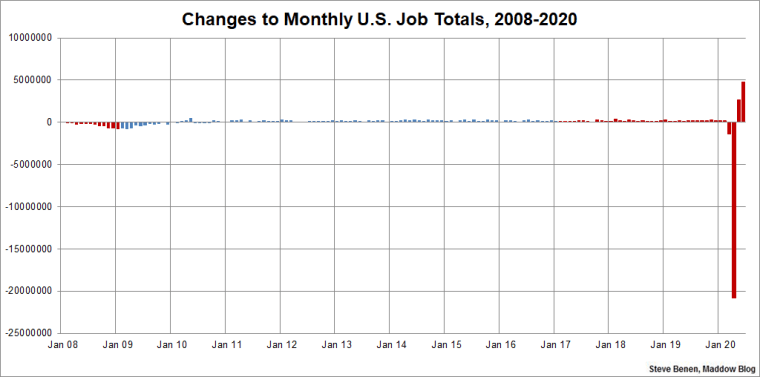 Last month's job numbers surprised nearly everyone. On the heels of April's catastrophic numbers, May showed considerable gains in the employment market, as states started relaxing coronavirus restrictions and many businesses started re-opening their doors.
That trend is reflected in today's new report from the Bureau of Labor Statistics, looking at last month's job totals.
Total nonfarm payroll employment rose by 4.8 million in June, and the unemployment rate declined to 11.1 percent, the U.S. Bureau of Labor Statistics reported today. These improvements in the labor market reflected the continued resumption of economic activity that had been curtailed in March and April due to the coronavirus (COVID-19) pandemic and efforts to contain it.
At face value, data like this appears to point in an encouraging direction. After all, the nation lost 22 million jobs in March and April -- a figure that was simply unfathomable before the pandemic -- and every job added brings us a little closer to where we were.
But just below the surface, these new numbers come with an important caveat. As the New York Times reported this morning, ahead of the BLS release, the latest figures were "compiled in mid-June, before coronavirus cases began to surge in Arizona, Florida and several other states.... Economists fear that layoffs could accelerate now that California, Texas and other states have begun ordering some businesses to close again."
Paul Krugman added, "Basically, job gains in May and early June were a false dawn, driven by a reopening that wasn't sustainable [because] we hadn't controlled the pandemic. Today's report will be a monument to delusion, not an indicator of success."
It's worth noting that monthly job totals are usually released on the first Friday of the month, but with the holiday weekend coming up, the Labor Department released the data today. It coincides with the latest report on initial unemployment claims, which this morning pointed to 1.42 million new filings -- a stubbornly high number, and the 15th consecutive week the total has topped 1 million.
All of which is to say, if policymakers simply look at the top-line results, see 4.8 million jobs, and assume that the economy doesn't need any additional attention, they're making a big mistake.
Update: Among the caveats to keep in mind: there are misclassification errors, the numbers on permanent job losses are awful, and the data on public-sector job losses in state and local governments is a serious problem.