Democratic Sen. Dianne Feinstein of California, after three decades in the Senate and over 50 years in public office, has died. NBC News reported:
Sen. Dianne Feinstein, D-Calif., a vocal advocate of gun-control measures who was known for trying to find common ground with Republicans during her three decades in the Senate, has died, according to two sources familiar the matter. She was 90.
Feinstein is the first sitting senator to die in office since Sen. John McCain's passing in 2018.
As we discussed earlier this year, when the California Democrat announced her retirement plans, Feinstein's lengthy career included the fact that she was a finalist for the Democratic Party's vice presidential nomination 39 years ago, when she was still serving as San Francisco's mayor.
In the years that followed, she was elected to the Senate, chaired the Intelligence Committee, was instrumental in passing an assault-weapons ban and the Violence Against Women Act.
What's more, as an Associated Press report noted, "Under Feinstein's leadership, the intelligence committee conducted a wide-ranging, five-year investigation into CIA interrogation techniques during President George W. Bush's administration, including waterboarding of terrorism suspects at secret overseas prisons."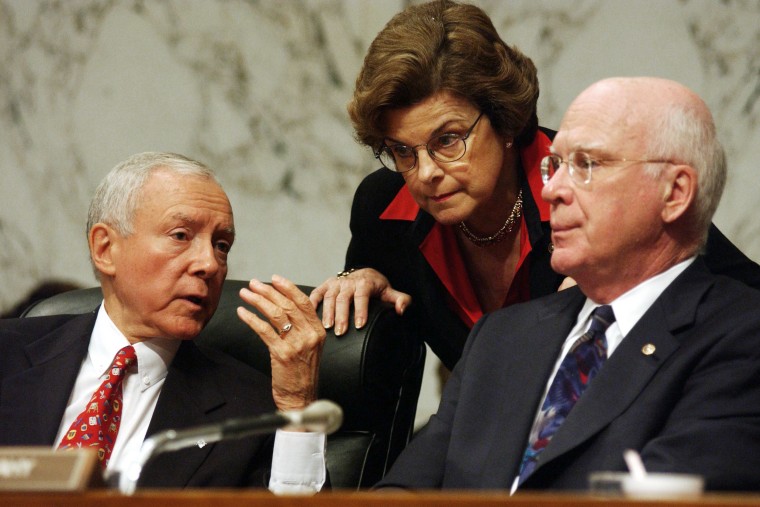 The senator was also celebrated by many of those who worked for her, including my MSNBC colleague Lisa Rubin, who wrote earlier this year about her experiences with Feinstein.
James Sauls, Feinstein's chief of staff, said in a written statement released this morning, "There are few women who can be called senator, chairman, mayor, wife, mom and grandmother. Senator Feinstein was a force of nature who made an incredible impact on our country and her home state. She left a legacy that is undeniable and extraordinary."
As for the vacancy on Capitol Hill, California's Democratic governor, Gavin Newsom, appeared on NBC's "Meet the Press" earlier this month and indicated that he would not choose among the candidates already running for her seat.
"Yes. Interim appointment. I don't want to get involved in the primary," Newsom said. "It would be completely unfair to the Democrats that have worked their tail off. That primary is just a matter of months away. I don't want to tip the balance of that."
This will be the governor's second appointment to the U.S. Senate: After Kamala Harris was elected as vice president, Newsom tapped Democrat Alex Padilla to fill the vacancy. At the time, the governor faced some criticisms from prominent Black leaders — Harris was the Senate's only Black woman — though Newsom pledged that he would select a Black woman to fill any future vacancies.